World Grand Champion in 1987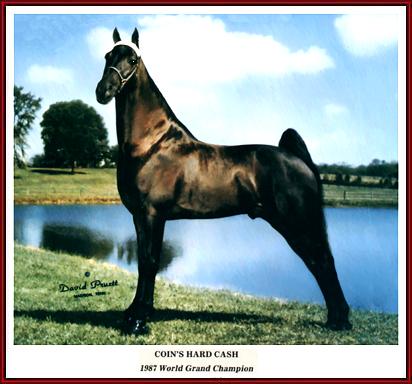 Coin's Hard Cash #825783
The pedigree of the 1987 World Grand Champion illustrates what knowledgeable horsemen have known almost since the beginning of time, that line-breeding will conserve and perpetuate the good traits of an outstanding individual. In the case of Coin's Hard Cash, the lineage is a product of the famed Harlinsdale Farm, tracing back to Pride of Midnight H. F. and, ultimately, Midnight Sun. Raised in the picturesque setting of Harlinsdale Farm in Franklin, Tennessee, Hard Cash was purchased as a yearling by Reese and Steve Smith and Bill Freeman, also of Franklin. In May of the following year, his two-year-old season, the beautiful black youngster attracted the attention of Larry and Gary Edwards and soon became the property of Atlanta, Georgia's Herb Murrath. He remained under Murrath's ownership until June of 1987, when he was purchased by Bonnie Cady, also of Atlanta. It was under her ownership that the World Grand Championship was attained.
| | |
| --- | --- |
| | Winning had become a tradition to the Coin's Hard Cash/ Edwards' team, as the eye-catching black stallion had proven himself a leading contender since his debut at the Montgomery Southern Championships as a two-year-old. There he created a good deal of excitement by winning the Two-Year-Old Stallions Class, along with the Two-Year-Old Stake. The success of Hard Cash continued from that show in 1984 through to the 1987 Celebration. He was named Three-Year Old and Four-Year-Old World Grand Champion in 1985 and '86 respectively, and garnered the titles of Walking Horse Trainers' Association "Three-" and "Four-Year-Old Horse of the Year" for each of these victories. |
Timing is a crucial factor in any human endeavor, and this is especially true when it comes to the world of sports. Stop watches, it seems, were invented for the purpose of timing sports events. It was a stop watch in the hand of Celebration's Mary Shapard that almost eliminated Coin's Hard Cash from further competition for the World Grand Championship on the evening of September 5, 1987.

The horse had just six seconds left of his allowed ten minutes when farrier Louie Staton finished replacing the thrown shoe on the right front foot of Coin's Hard Cash, a favored contender in the Big Stake. Back on the rail, tension ran high as the 13 competing stallions, each a champion in his own right, gave all-out performances for the Walking Horse industry's most coveted title. With the workout over and the results in, Hard Cash and trainer Larry Edwards were proclaimed winners by a unanimous decision. This victory came on the heels of a divisional Aged Stallions Over 15.2 win in which Hard Cash and Edwards had already defeated the majority of their competition.
| | |
| --- | --- |
| His World Grand Championship marked a first for his trainers, Larry and Gary Edwards, as he was the first horse under their direction to gain this honor. It has been 37 years since their father, the late Carl Edwards, had ridden to the 1950 World Grand Championship aboard Old Glory's Big Man. | |
The Horse Hub, formerly Long Leaf Farm, located in the Wheel community, was purchased by Ms. Cady in 1986, and plans were made following the purchase of Hard Cash for him to stand at stud there after the Celebration, win or lose. Shortly after the 1987 World Grand Championship victory, it was announced that, as planned, the stallion would be retired from show ring competition.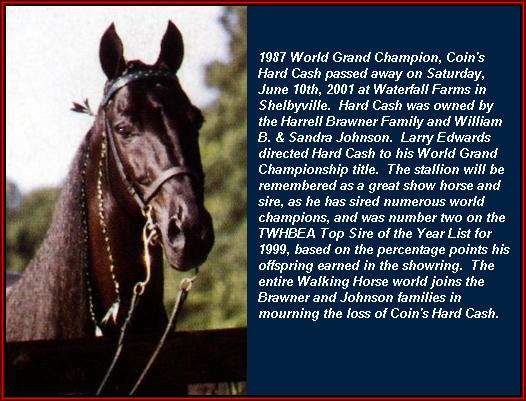 If you wish to print off this pedigree, click HERE to load a black and white copy.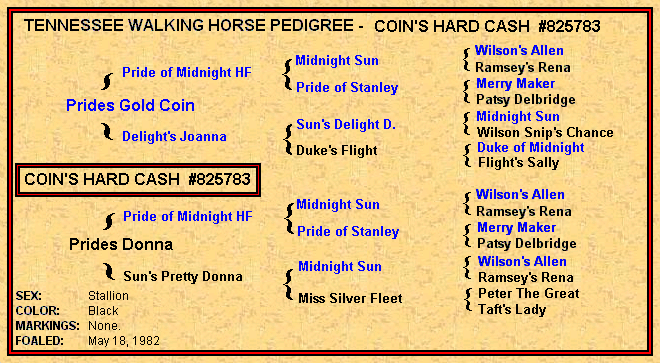 ----- Original Message -----
From: "Dee Robertson" <ddumplin@bellsouth.net>
To: <walkerswest@walkerswest.com>
Sent: Saturday, December 06, 2003 3:11 PM
Subject: Coin's Hard Cash

My favorite!!

We were at a show in the Atlanta area and saw Larry show him. (He won the stake glass, by the way. ) Knowing the Edwards family since Larry & Gary were children, we went back to the stalls to congratulate Larry and visit with he and Gary. Cash was crossed tied, cooling off, a bit. I walked up to him and he held his nostril beside my ear for a very long time! He was in my heart, and still is, from then on. So, you can imagine what a thrill it was to learn he had won the celebration!!! Later when we were in Shelbyville, Bonnie Cody took us back to his stall --- he was still a sweetheart! Bonnie was kind enough to autograph a picture of him which still hangs in my office! I took my brother-in-law's cap away from him that had Cash's name on it. It's hanging up by the back door, so I see it every day when I leave for work. I enjoyed your website very much -- looking at the Famous Walking Horses' articles and pictures.


If you have a story or photos of Coin's Hard Cash
that you would like added to this page, please forward them to Walkers West.


MAIN - EMAIL WALKERS WEST - STALLIONS - SALE HORSES - TACK - CYBER-BARN TOUR
OFFICE - COLT COLLEGE - BREEDING CONTRACT -
CLIENT COMMENTS - CONTACT
THE ANCESTOR GALLERY -
Tennessee Walking Horse National Museum - Pj Wamble Gallery
TWHBEA COLOR CODES -COLOR CHART - LEGENDS - FOUNDATION BOOK - BREED HISTORY - WORLD CHAMPIONS
GHOST HORSES
- LINKS - BANNERS - RINGS - GUEST BOOK - PHOTO ALBUM
GLOBAL TIME CLOCKS - THE LIBRARY -
PUZZLES - 2017 WALKERS WEST CALENDAR

Walkers West
3236 FM 2578
Kaufman, TX. 75142
Cell (214) 507-6032
Email: walkersw@earthlink.net


We can ship overseas.


<==

Click here for Currency Exchange Rates
COPYRIGHT NOTICE

Hosted on