World Grand Champion in 1988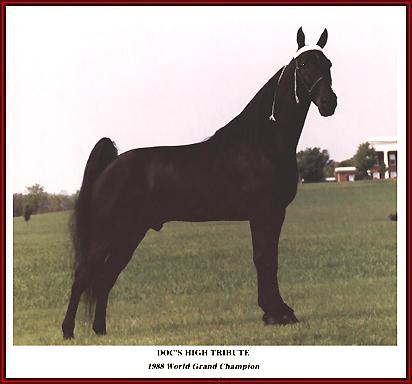 Doc's High Tribute #830911
Doc's High Tribute was born on the Bedford County farm of Richard and Nicki Wall and, according to Nicki's parents, Dr. and Mrs. E. K. Brake of Asheville, N.C., was the product of a union of their best two horses, Dr. Elmer and Anne's Mystery.

Anne's Mystery, sired by Keene's Go Boy and out of a Go Boy's Souvenir mare, had been the Brakes' property since 1966. Although she had produced many top show ring performers, High Tribute was her first foal by Dr. Elmer, a top performer in his own right. High Tribute, the grandson of the late, great Ebony Masterpiece, was foaled during the Trainers' Show of 1983.

Showing potential from the very beginning, High Tribute was started under saddle by Richard Wall at Sonny Holt's Twin Springs Ranch near Shelbyville. Described by many as having plenty of heart and gameness, the swingy young High Tribute progressed quickly. Shown only twice as a two-year-old, the colt caught the eye of, Cookeville, Tennessee's Janice Cass, who soon purchased High Tribute as an amateur mount for her son, Greg.
Then, during the 1986 Celebration, the promising stallion was purchased by Dr. and Mrs. Glenn DeGraffenreid of Springfield, Missouri. The DeGraffenreids continued his training at Twin Springs for one year, before selling him to the Putman family following the 1987 Celebration. High Tribute was then moved to Steve Aymett's Stables in Lewisburg.

Aymett and Putman had a great first season with High Tribute, guiding him to collect a number of top ribbons in open and championship classes throughout the circuit. And, as Steve put it, the Doctor "became a more definite threat following each and every show".
Although as a young horse, High Tribute had already made a name for himself prior to the 1988 show by frequenting winner's circles throughout the circuit and claiming many notable awards in both open and amateur events. He had headlined nearly every Show, Columbia Spring Jubilee, Midwest Trainers' Show, and Montgomery as well as several other prestigious mid-summer shows. The eager black stallion had also laid claim to the 1987 Amateur Four Year-Old Stallion World Champion title during the 49th Annual Celebration.
"He just kept on getting better and better, and, although we did not know exactly how well he was going to do, we knew he was a force to be reckoned with," Steve said. Obviously, the judges and fans of the Celebration agreed.

The 1988 World Grand Championship victory marked a first for Doc's trainer, Steve Aymett of Lewisburg. Although he had already guided High Tribute to blue ribbon honors in Division B of the Walking Stallions, Over 15.2 competition a week earlier, the taste of victory had never been sweeter than it was that final Saturday night.
| | |
| --- | --- |
| Not even the constant downpours and drizzles that plagued the historic closing night of the Golden Anniversary Celebration could dampen the spirits of Steve Aymett and his bold-walking, five-year old black stallion, Doc's High Tribute. For it was that night that the dynamic duo took a drenched, but standing room only crowd by storm to walk away with the Walking Horse Industry's most prestigious title-the title of World Grand Champion. | |
By comparison to his competition, Doc's High Tribute was a newcomer to the aged stallion and championship ranks. In fact, he was the youngest entry in the 1988 stake. But, when it was all over, it was not his age, but his great heart and powerful motor that propelled him past 17 of the breed's top aged performers in a class and workout that lasted 40 minutes.

Sharing the summits of success from the sidelines was the D. L. Putman family of Huntsville, Alabama, who, obviously impressed with his show ring record, had purchased the horse almost a year earlier following the 1987 Celebration.
If you wish to print off this pedigree, click HERE to load a black and white copy.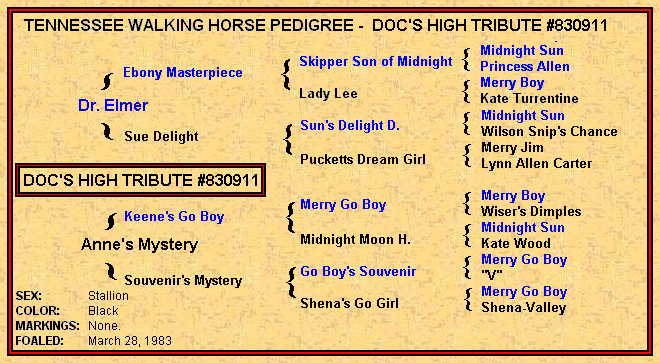 If you have a story or photos of Doc's High Tribute,
that you would like added to this page, please forward them to Walkers West.


MAIN - EMAIL WALKERS WEST - STALLIONS - SALE HORSES - TACK - CYBER-BARN TOUR
OFFICE - COLT COLLEGE - BREEDING CONTRACT -
CLIENT COMMENTS - CONTACT
THE ANCESTOR GALLERY -
Tennessee Walking Horse National Museum - Pj Wamble Gallery
TWHBEA COLOR CODES -COLOR CHART - LEGENDS - FOUNDATION BOOK - BREED HISTORY - WORLD CHAMPIONS
GHOST HORSES
- LINKS - BANNERS - RINGS - GUEST BOOK - PHOTO ALBUM
GLOBAL TIME CLOCKS - THE LIBRARY -
PUZZLES - 2017 WALKERS WEST CALENDAR

Walkers West
3236 FM 2578
Kaufman, TX. 75142
Cell (214) 507-6032
Email: walkersw@earthlink.net


We can ship overseas.


<==

Click here for Currency Exchange Rates
COPYRIGHT NOTICE

Hosted on