This horse is NOT stabled at Walkers West.
Alen's Windwalker is a big, beautiful buckskin tobiano stallion. He is an all natural, big-striding, square-gaited Tennessee Walking Horse. Uniquely marked with lace edgings around his patches and dotted with cat tracks, he is 3 years old and 15.3 hands on a keg shoe. He has large, strong hooves and is better with the farrier than my mares or geldings!
He offers beauty, size and the blue blood of spotted champions to a breeding program. His sire, Bandit's Gold Allante', is a SSHBEA Sport Horse Champion and his dam, Alen's Splendid Lady, is a daughter of Spotted Alen Again. He also has Alen's Avenger, Alen's Belfast Bandit, Shadows Spotted Alen, Sun's Eldorado, Dark Spirit's Rebel and Paint the Town in his pedigree.
He is trained to hand breed and has bred and settled six mares in his first season - five by hand, and one by pasture breeding. He is a total gentleman to handle and respectful of people. His UC Davis tests show him to be homozygous for tobiano and black. He will never sire a red-based foal. UC Davis Color Test Results.
He has been started under saddle, with 45 days training by a clinician in Chattanooga. He rides well and is full of life. He will need an experienced rider to finish his training but he has the potential to make a show horse with additional training. He loads and hauls great.
We've had him since he was 5 months old and adore him, but we are scaling way back and winding down on breeding. He deserves a life. Right now he is sitting around doing nothing and we won't be breeding back next spring. Foaled 04/25/2013. Located in Russellville, KY.
For more info, contact:
Gwenith Boles Moberley
EMAIL
PH: 270-847-6832
SOLD
Photos of the horses named in blue on the pedigree can be found in the Ancestor Gallery.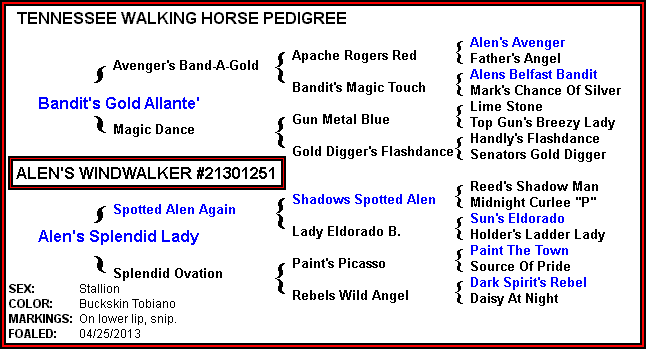 MAIN - EMAIL WALKERS WEST - STALLIONS - SALE HORSES - TACK - CYBER-BARN TOUR
OFFICE - COLT COLLEGE - BREEDING CONTRACT -
CLIENT COMMENTS - CONTACT
THE ANCESTOR GALLERY -
Tennessee Walking Horse National Museum - Pj Wamble Gallery
TWHBEA COLOR CODES -COLOR CHART - LEGENDS - FOUNDATION BOOK - BREED HISTORY - WORLD CHAMPIONS
GHOST HORSES
- LINKS - BANNERS - RINGS - GUEST BOOK - PHOTO ALBUM
GLOBAL TIME CLOCKS - THE LIBRARY -
PUZZLES - 2017 WALKERS WEST CALENDAR

Walkers West
3236 FM 2578
Kaufman, TX. 75142
Cell (214) 507-6032
Email: walkersw@earthlink.net


We can ship overseas.


<==

Click here for Currency Exchange Rates
COPYRIGHT NOTICE

Hosted on


Last Updated: December 27, 2016