World Grand Champion in 1992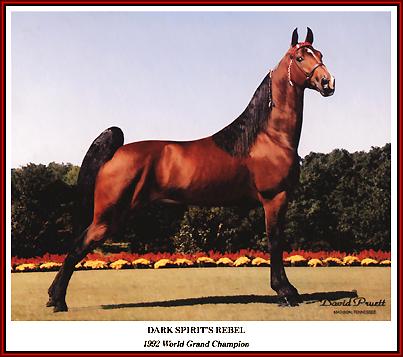 Dark Spirit's Rebel #846633
Dark Spirit's Rebel was born and bred at Harlinsdale Farm in Franklin, Tennessee. He was the son of one of the industry's premier stallions, Pride's Dark Spirit, himself a world champion as a three and four year old in 1982 and 1983, respectively. Rebel's dam, Bridle-Vale Penny, has bloodlines tracing back to Miller's Wilson Allen and the famed Reyclif line.
At the time of Pride Dark Spirit's peak show career, his owners, Nell and Robert Keenan, enjoyed many horse show outings with friends Shirley and Frank Neal, then still newcomers to the walking horse industry. As their interest in the business began to grow, fate came into play and Pride's Dark Spirit's first crop of colts were made available at the Harlinsdale Production Sale; among them the future 1992 World Grand Champion, Dark Spirit's Rebel.
| | |
| --- | --- |
| | Although just a yearling at the time, Rebel quickly captured the attention of many top trainers who were literally spellbound by his "exceptional way of going." He also captured Shirley Neal's heart with what she fondly describes as his "very kind eyes, wonderful disposition and beautiful bay color." After the Neals purchased Dark Spirit's Rebel, his first stop was Bullington Stables in Murfreesboro, Tennessee, where trainer Ramsey Bullington got the young prospect off to a solid start under saddle. Under Bullington's early tutelage, Rebel made a number of "great shows" as a two year old and placed well at The Celebration. |
As with any road to success, however, Rebel's path to the World Grand Championship was not without detours. In fact, it wasn't long after celebrating his third birthday and hitting full stride by winning the Spring Fun Show, that Rebel experienced his first major detour-a hind leg injury which plagued him on and off throughout his three and four year old years, and eventually led to a long, detailed recovery program.
For 15 weeks, under the care and close supervision of an equine leg specialist, Rebel began his road to recovery. The Neals' son-in-law, Martin Bauggess, followed the doctor's instructions to the letter, tending to the ailing horse seven days a week, at least three hours a day. It was a grueling, emotional 15 weeks, but it all paid off. By spring, Rebel was sound and in the best condition of his life.
At age five, Dark Spirit's Rebel continued to grow stronger and returned to the showring under the direction of Dick Meyers. His first outing as an aged stallion at The Celebration resulted in a disappointing finish, but Shirley and Frank Neal were still thrilled as they saw Rebel coming back. He was moved to Bud Dunn and Son Stables in Florence, Alabama, shortly after the 1990 Celebration.
One might consider 1990 and 1991 building years; building years that had both Bud and Rebel at peak performance in 1992. The dynamic duo landed in the winners' circle nearly everywhere they went-from Corinth, Mississippi, to Columbia, Franklin, and Lewisburg, Tennessee-before finally claiming the title of all titles ...the World Grand Championship!
| | |
| --- | --- |
| For a split second, he did not move. The reins were cradled in his hands much the way a doctor might cradle a newborn; his grip firm yet soft, with just a touch of wonder. Bud Dunn loved this moment, perhaps more than any other in his entire life. He had fantasized it thousands of times during his 44-year training career and, now, when it was real, he wasn't quite sure whether to believe it. But his eyes and ears told him it was true. He heard the announcer call "Number 1865"; he heard the crowd go wild; and he saw it on the colorful Celebration scoreboard hovering high above the grandstand: "Bud and Rebel. Your 1992 World Grand Champions!" There was nothing left to doubt. The questions had all been answered; the task complete. The roses were his for the keeping, and so was this feeling. | |
Near the rail, in their west side box, owners Shirley and Frank Neal of Franklin, Tennessee, gladly joined family, friends and a record crowd of 28,691 fans in sending an avalanche of congratulatory cheers to seven-year-old Dark Spirit's Rebel and 74-year-old Bud Dunn. It was a display of crowd support equaled by no team ever known to the walking horse world, and one that had begun building a year earlier when the colorful Bud and Rebel duo first claimed the blue in preliminary World Grand Championship competition. It was a phenomenal level of excitement that just kept building and building until nearly every set of vocal cords in the Celebration stadium on the Saturday night before Labor Day 1992 joined in a faint chant, turn feverish cry, "Rebel! Rebel! REBEL!!!"
Although he had come close on numerous occasions, and had even cheered his own son to the 1989 World Grand Championship aboard Motown Magic, this was Bud Dunn's first personal taste of the ultimate victory.
Seeing this worthy trainer, (now known to many as simply "Uncle Bud"), finally receive his just reward was by far the most exciting part of winning, say Shirley and Frank Neal. Bud Dunn's friends, family and many fans who gleefully turned the grandstands into a waving sea of red, white and blue confederate flags on the final night of Celebration 1992 obviously agreed!
Indeed, Bud and Rebel became household names in the homes of walking horse enthusiasts the world over. They won the title in 1992, but the memories they created for their thousands of fans will no doubt last a lifetime.
Dark Spirit's Rebel died
April 16, 1998.
If you wish to print off this pedigree, click HERE to load a black and white copy.
If you have a story or photos of Dark Spirit's Rebel
that you would like added to this page, please forward them to Walkers West.


MAIN - EMAIL WALKERS WEST - STALLIONS - SALE HORSES - TACK - CYBER-BARN TOUR
OFFICE - COLT COLLEGE - BREEDING CONTRACT -
CLIENT COMMENTS - CONTACT
THE ANCESTOR GALLERY -
Tennessee Walking Horse National Museum - Pj Wamble Gallery
TWHBEA COLOR CODES -COLOR CHART - LEGENDS - FOUNDATION BOOK - BREED HISTORY - WORLD CHAMPIONS
GHOST HORSES
- LINKS - BANNERS - RINGS - GUEST BOOK - PHOTO ALBUM
GLOBAL TIME CLOCKS - THE LIBRARY -
PUZZLES - 2017 WALKERS WEST CALENDAR

Walkers West
3236 FM 2578
Kaufman, TX. 75142
Cell (214) 507-6032
Email: walkersw@earthlink.net


We can ship overseas.


<==

Click here for Currency Exchange Rates
COPYRIGHT NOTICE

Hosted on