World Grand Champion in 1991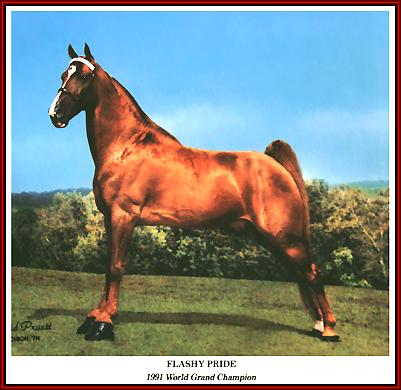 Flashy Pride #783598
As anyone in the Tennessee Walking Horse Industry will tell you, it takes many ingredients to make a World Grand Champion. It takes good breeding, a good horse, a good trainer and a lot of hard work. Perhaps, above all, it takes an owner's ability to match the right trainer with the right horse. That's exactly what Art and Frances Barnes of Shalimar, Florida and Lewisburg, Tennessee, did when they purchased a beautiful chestnut stallion named Flashy Pride in 1988 and turned the reins over to Trainer Vicki Self of Lewisburg.

Whether it was premonition or just plain trust in their trainer, the Barnes could not have made a better choice as Flashy and Vicki have become the best of friends, standing tall through their victories as well as their defeats. It's as if both horse and trainer have one another on a pedestal, with all the respect and admiration best of friends could possibly have for each other.
That special friendship, admiration and respect is evident anytime you see the two together, but it was especially evident the evening of Saturday, August 31, 1991, when Flashy and Vicki out-stepped 15 other top, high-spirited contenders to claim the ultimate title in the world of Tennessee Walking Horses - the title of World Grand Champion. Together, they had fought long and hard for this victory, and, now, it would be together that they enjoyed the thrill of the moment and the fruits of their labor.
| | |
| --- | --- |
| Foaled in 1978, the docile, now 13-year-old Flashy Pride was sired by Pride's Delight out of Merry Image B. His owner at the time of his foaling was Coy Downey of Columbia, Kentucky. Two years later at the 1980 International in Murfreesboro, Tennessee, the young stallion caught the attention of trainer Bud Seaton of Milton, Tennessee. Shortly after, Bud purchased the colt for customers Donn and Sandi Perry. A winter of work and fine-tuning began a long list of prestigious titles for Flashy, the first coming at the 1981 Trainers' Show at which Seaton and Flashy rode into the winners' circle following a remarkable performance in the Three-Year Old Stallion Class. Later that summer, the new Flashy duo went on to claim World Championship honors in the Three-Year-Old Stallion Class. Many, many more victories were to follow, and in 1982 under the new ownership of Mary R Hale, Flashy claimed the title of World Champion Four-Year-Old Stallion. | |
In 1983, Joe Ragan of Vienna, Missouri, purchased Flashy, now an aged contender, and put him under the tutelage of Tim Gray. The new partnership also proved successful as Gray and Flashy easily claimed the 1983 15.2 and Under Stallion preliminary as well as the reserve title in the actual World Championship competition. The duo returned in 1984 to earn the same "preliminary victory and followed it with an exciting win in the 15.2 World Championship.
| | |
| --- | --- |
| | By 1986, Flashy had again found a new owner, Marvin Otten, who again put him under the direction of Bud Seaton. The reunited team earned a long list of blue ribbons and also placed third at the Celebration in both the preliminary Aged Stallion Class and the World Grand Championship. |
| | |
| --- | --- |
| The final turning point in Flashy's career came in 1988 when the promising stallion was purchased by his current owners and moved to their Fancy Free Farm in Lewisburg to be readied for Celebration competition by their trainer, Vicki Self, with the assistance of Bud Seaton. That year, Vicki unselfishly decided that it would be in the best interest of the horse to let Bud show him at the Celebration since she was still learning about Flashy. Bud and Flashy that year won their division of the Aged Stallion competition and placed reserve in the Grand Championship. | |
| | |
| --- | --- |
| | Following the 1988 Celebration, Vicki and Flashy became a team for good, inseparable, with Vicki admitting that she immediately became Flashy's biggest fan. They went through a "getting to know one another" process in 1989, and although they claimed several victories that season, their Celebration performance resulted in a disappointing finish. However, a win later that fall in the Florida State Championships gave the duo their confidence back and they quickly restaked their rightful position as legitimate Celebration contenders. |
At the 1990 Celebration, Vicki and Flashy were awarded their division in the Aged Stallion preliminaries, but the Championship once again found Flashy settling for a reserve title. Then came 1991. After a winter of light work and a spring and summer of increased workouts, Flashy was in prime condition. His first show was at Ooltewah, which resulted in a blue ribbon, and his second, and last stop before the Celebration, was in Lewisburg where he again claimed the blue and told, the world he was the one to beat at the upcoming Celebration.
| | |
| --- | --- |
| | As it turned out, Flashy was the one to beat, but no one could do it as he and Vicki won the preliminary and retired the 28-year-old Okley B. Hays Memorial Challenge trophy and went on to become the new World Grand Champions. When asked if she knew she had won before the announcer made it official, Vicki replies that she knew she had done all she could and that Flashy, likewise, had given his all. In her mind, she was just hoping it had been good enough. |
And, indeed it was, as the judges chose Flashy unanimously to become the 53rd Annual Tennessee Walking Horse National Celebration's World Grand Champion, thus making Vicki only the third woman in the show's history to claim the ultimate title.
What's next for Flashy?

Having already sired some show ring stars, Flashy Pride will continue to stand at Fancy Free Farms and is certain to pass on his natural walking ability to his offspring.

As for Vicki, well, she is just tickled that her best friend will still be at the barn where she can see him every day, and looks forward to seeing his future sons and daughters enter the show ring, high-stepping their way to victory just as Flashy did!
If you wish to print off this pedigree, click HERE to load a black and white copy.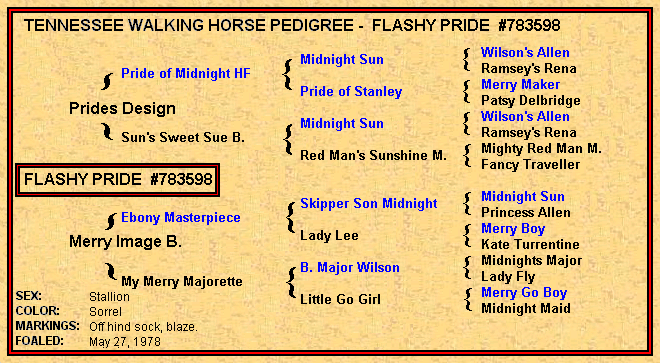 ----- Original Message -----

From: Amber McPherson

Sent: Friday, May 14, 2004 8:25 PM

Subject: Flashy Pride

Hello

Figured I would share a story with you, We have a show horse in training at what was Fancy Free Farms that was sold last year. The Fancy Free bunch moved to another new barn that is much bigger in the next town over. When I was little about 14 I used to go to Fancy Free and they let me ride Flashy a few times. He is awesome to ride and so beautiful to look at, with one of the best personalities of any stud horse I have ever seen. I went out there to see our horse today and have been wanting a picture of me on Flashy for awhile now so I could frame it and always have it. Thanks to Tommy for taking him out for me I got one today and figured I would share it with you. He is a wonderful horse...Thanks. Amber

If you have a story or photos of Flashy Pride
that you would like added to this page, please forward them to Walkers West.


MAIN - EMAIL WALKERS WEST - STALLIONS - SALE HORSES - TACK - CYBER-BARN TOUR
OFFICE - COLT COLLEGE - BREEDING CONTRACT -
CLIENT COMMENTS - CONTACT
THE ANCESTOR GALLERY -
Tennessee Walking Horse National Museum - Pj Wamble Gallery
TWHBEA COLOR CODES -COLOR CHART - LEGENDS - FOUNDATION BOOK - BREED HISTORY - WORLD CHAMPIONS
GHOST HORSES
- LINKS - BANNERS - RINGS - GUEST BOOK - PHOTO ALBUM
GLOBAL TIME CLOCKS - THE LIBRARY -
PUZZLES - 2017 WALKERS WEST CALENDAR

Walkers West
3236 FM 2578
Kaufman, TX. 75142
Cell (214) 507-6032
Email: walkersw@earthlink.net


We can ship overseas.


<==

Click here for Currency Exchange Rates
COPYRIGHT NOTICE

Hosted on