World Grand Champion in 1979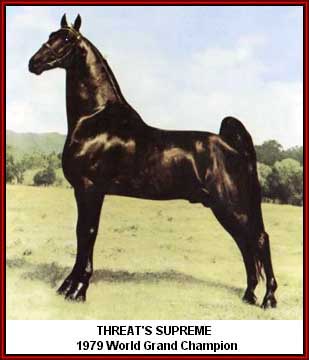 Threat's Supreme #673989
Threat's Supreme would never have made it to the show ring had it not been for the loving care bestowed upon him by Margaret Anderson when he was just a weanling. He caught his left hind foot in a fence and tore off much of his actual foot and hoof while attempting to liberate himself. Few people have ever been aware of this once-injured hind foot and it has never been a hindrance to his performance.

Threat's Supreme was foaled on Pete and Margaret Anderson's farm in Manchester, Tennessee, 12 years ago. His training began as a two year old with Sammy Anderson. The late Neil Branscom took him over as a three year old and he was later transferred into the hands of Donald Paschal.

Pete Anderson brought Threat's Supreme back to his farm in 1973 and showed him in amateur competition in 1973, 1974, and 1975. People were continually urging the Andersons to turn the reins over to a professional who would campaign him more extensively, and in 1976 they carefully selected a professional trainer, Bud Seaton, a master horseman. One example of Bud's dedication and ability is that he personally shod Threat's Supreme from the day Supreme was delivered to his stables, and he fashioned a special left rear shoe for him.
THREAT'S SUPREME with Bud Seaton up, was in amateur competition for three years before making his first Celebration bid in 1976. Donn and Sandi Perry bought the bay stallion after seeing him at the 1976 Celebration.
Supreme made his first Celebration bid under the guidance of Bud Seaton in the 1976 Celebration. He was tied in fifth place in the stallion class on Wednesday night and came back to the stake class on Saturday night and placed seventh with sixteen horses having entered the show ring for that Grand Championship Class.

It was at the 1976 Celebration that a couple from Indianapolis, Indiana, became interested in Threat's Supreme and decided then they would like to own him. Less than a year later Donn and Sandi Perry were the proud owners of this great horse. The original plan for Supreme was for Sandi to show him as her mount in amateur and ladies competition.
Bud continued to show Supreme during 1977 and, at the 1977 Celebration, Bud and Supreme again captured the seventh place award in the Grand Championship Class. The 1978 Fun Show third place tie with Bud in the saddle against the top competition in the country put an end to the plans for Sandi to campaign Supreme as an amateur. The 1978 Celebration found Bud and Threat's Supreme accepting the seventh place award in the stake class for the third year in a row.

Bud and Supreme captured blues continually during the 1979 show season. Rain fell eight of the ten nights of the 1979 Celebration but Wednesday night the skies were clear and Threat's Supreme walked away with the blue ribbon in the "A" division of the aged stallion class. Saturday night came and the rain again fell. When the call was made, ten great horses entered the show ring to make their bid for the roses. When the lights were turned out and the spotlight roamed over the horses, each rider waited with great anticipation to hear his number called as the new World Grand Champion. When number 1292 was called out and Bud Seaton brought him around the ring under the Celebration spotlight his fans were thrilled that Threat's Supreme had won the coveted award he had pursued so gallantly for so long. A most deserving horse and a very deserving man!
If you wish to print off this pedigree, click HERE to load a black and white copy.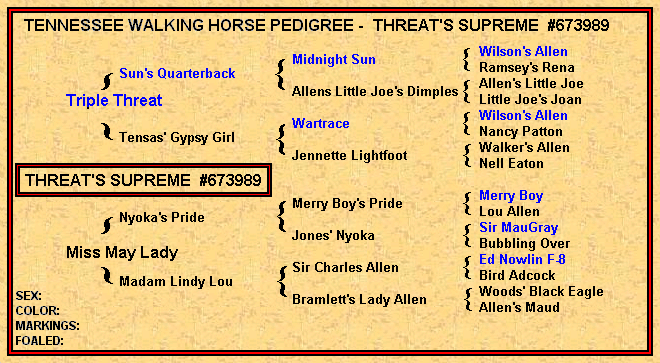 If you have a story or photos of Threat's Supreme
that you would like added to this page, please forward them to Walkers West.


MAIN - EMAIL WALKERS WEST - STALLIONS - SALE HORSES - TACK - CYBER-BARN TOUR
OFFICE - COLT COLLEGE - BREEDING CONTRACT -
CLIENT COMMENTS - CONTACT
THE ANCESTOR GALLERY -
Tennessee Walking Horse National Museum - Pj Wamble Gallery
TWHBEA COLOR CODES -COLOR CHART - LEGENDS - FOUNDATION BOOK - BREED HISTORY - WORLD CHAMPIONS
GHOST HORSES
- LINKS - BANNERS - RINGS - GUEST BOOK - PHOTO ALBUM
GLOBAL TIME CLOCKS - THE LIBRARY -
PUZZLES - 2017 WALKERS WEST CALENDAR

Walkers West
3236 FM 2578
Kaufman, TX. 75142
Cell (214) 507-6032
Email: walkersw@earthlink.net


We can ship overseas.


<==

Click here for Currency Exchange Rates
COPYRIGHT NOTICE

Hosted on