World Grand Champion in 1978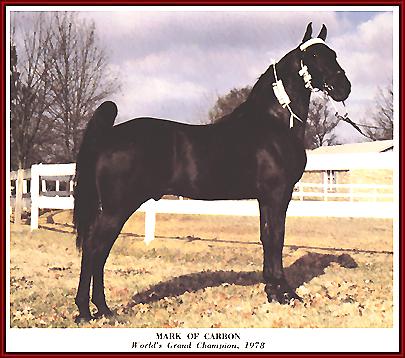 Mark of Carbon #692213
MARK OF CARBON was destined to be a great horse from the time of his conception. He had both a sire and grandsire as World Grand Champion Walking Horses. Not only did he have a great lineage but had absolute devotion from both his owner and his trainer. MARK OF CARBON has been part of a threesome since he was foaled on May 22, 1969. The other two being: his owner, Verd Walker, and his trainer, Joe Webb. This trio has known the ecstasy of victory and the agony of defeat. Nothing they have experienced can compare with that Saturday night in September when the lights were turned out and number 425 was declared Grand Champion Walking Horse of the World.
| | |
| --- | --- |
| MARK was not campaigned extensively as a junior horse due to injury and received the third place award in the four-year-old stallion class at the Celebration in 1973. MARK OF CARBON and Joe Webb experienced their first aged victory in Little Rock, Arkansas as a five year old. As an aged stallion, MARK won many blue ribbons and in 1976 won the 15.2 and under Championship at the Celebration. Verd and Joe felt that MARK OF CARBON had the ability to compete with the big horses and decided to go for the big stake. The year 1977 saw MARK and Joe continually battling a round of injuries but the true agony was experienced when MARK cast a shoe in the Championship Stake at the Celebration, breaking his foot off into the quick, and having to be excused from further competition in the class. Early in the 1978 show season MARK was the victim of another injury and he was out of competition for a great part of the show season. MARK gave a perfect performance and was the blue ribbon winner at Pine Bluff, Arkansas just before the beginning of the 1978 Celebration. | |
The Aged Stallion Class at the Celebration was split into two divisions and MARK was the blue ribbon winner of the "B" division. MARK and Joe knew they had their work cut out for them when they entered the ring in the Grand Championship class as there were several good horses in competition. Joe knew when the horses lined up that last time that MARK OF CARBON had performed flawlessly and if MARK was not declared Grand Champion Walking Horse of the World it would not be MARK'S fault. When the judges' cards were tabulated, it was evident that there had been no flaws and MARK OF CARBON, ridden by Joe Webb, was declared winner of the World Grand Champion Walking Horse title, making him the only horse to be a champion in the 15.2 and under division and later return to win the coveted title of World Grand Champion.
It was announced immediately after his great win that MARK OF CARBON would be retired from show ring competition and spend the rest of his days improving the breed as a breeding stallion to selected mares.
Who knew what the future would hold in store for Joe Webb? Three times he had been the rider of the World Grand Champion Walking Horse. First, Rodgers' Perfection, then Carbon Copy and now MARK OF CARBON. Just maybe, one of these years, the son of MARK OF CARBON. There is one thing for sure, the affinity of Verd Walker and Joe Webb contributed greatly to the tremendous success of truly a great horse, MARK OF CARBON.
MARK OF CARBON was the third stallion to win the Grand Championship under the training and riding of Joe Webb of Searcy, Ark. RODGERS'- PERFECTION and CARBON, grandsire and sire, respectively, of the 1978 Grand Champion, were the other two.
If you wish to print off this pedigree, click HERE to load a black and white copy.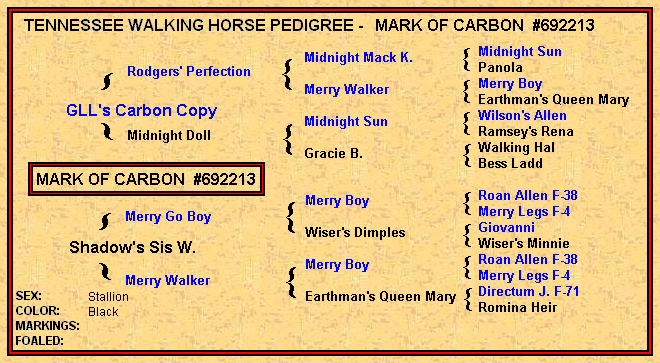 If you have a story or photos of Mark Of Carbon that you would like added to this page,
please forward them to Walkers West.


MAIN - EMAIL WALKERS WEST - STALLIONS - SALE HORSES - TACK - CYBER-BARN TOUR
OFFICE - COLT COLLEGE - BREEDING CONTRACT -
CLIENT COMMENTS - CONTACT
THE ANCESTOR GALLERY -
Tennessee Walking Horse National Museum - Pj Wamble Gallery
TWHBEA COLOR CODES -COLOR CHART - LEGENDS - FOUNDATION BOOK - BREED HISTORY - WORLD CHAMPIONS
GHOST HORSES
- LINKS - BANNERS - RINGS - GUEST BOOK - PHOTO ALBUM
GLOBAL TIME CLOCKS - THE LIBRARY -
PUZZLES - 2017 WALKERS WEST CALENDAR

Walkers West
3236 FM 2578
Kaufman, TX. 75142
Cell (214) 507-6032
Email: walkersw@earthlink.net


We can ship overseas.


<==

Click here for Currency Exchange Rates
COPYRIGHT NOTICE

Hosted on