1959 World Grand Champion
Rodgers' Perfection #551107
Rodgers' Perfection was sired by Midnight Mack K, out of Merry Walker, who was also the dam of Go Boy's Shadow. The beautiful black foal was born on Dr. Porter Rodgers' birthday, May 6th, 1955. As he developed from a weanling into a big rangy yearling, his loose way of going, and long sweeping strides continued to confirm the opinions that he was a truly great prospect for a champion.
In the winter that Perfection turned three years old, his natural ability and style was perfected and many who saw him said that he was the fastest, smoothest walking horse that was ready for the show ring. He had plenty of head motion, and kept his legs well up under him with a fluid like motion to stay in form.
Rodgers' Perfection won the Junior Championship at the American Royal Show in Kansas City that year as well as the Junior Stallion Championship at the Dixie Jubilee Horse Show in Baton Rouge, and the Stallion Class and Junior Championship at the Southern Championship Show in Montgomery, Alabama.
As a four-year-old, he won the Stallion Class and the Championship at Little Rock, Arkansas, and ended his show ring competition by winning the World Champion Stallion title and the World Grand Championship at the 1959 Celebration. He was retired from the show ring after the Celebration and went on to stud. He sired the 1964 World Grand Champion, GLL's Carbon Copy.
Perfection was retired from active competition in the show ring following the 1959 Celebration Horse Show.
The Porter Rodgers farm is the home of numerous champions of the Walking Horse World for Rodgers' Perfection is the THIRD Grand Champion Walking Horse of the World to come from there. First of these was Old Glory's Big Man, winner of the 1950 Celebration showing with Carl Edwards up for Mr. and Mrs. J. T. Budd, Jr., of Quincy, Florida, followed in both 1955 and 1956 by Go Boy's Shadow with Winston Wiser up for Padgett and Wiser.
Winning the Grand Champion Walking Horse of the World is the climax of a great horse lover's dream! Dr. Rodgers has been developing and promoting the Tennessee Walking Horse since 1933 and has done as much for the breed and has probably developed more top walking horses than any one man to date. Having Rodgers' Perfection foaled on Dr. Rodgers' own birthday and watching him develop into the great Grand Champion Walking Horse of the World was one of the greatest thrills of the doctor's life.

The story of Rodgers' Perfection would not be complete without mentioning Joe Webb who trained and exhibited Rodgers' Perfection throughout his show career. From the first nod of Perfection's head, (and incidentally Joe Webb named him Perfection) Joe recognized the marks of a champion and set about making him just that. Joe Webb built a training ring exactly the size of the big ring on the Celebration grounds. Perfection was in great shape and physically conditioned for the task at Celebration time.
If you wish to print off this pedigree, click HERE to load a black and white copy.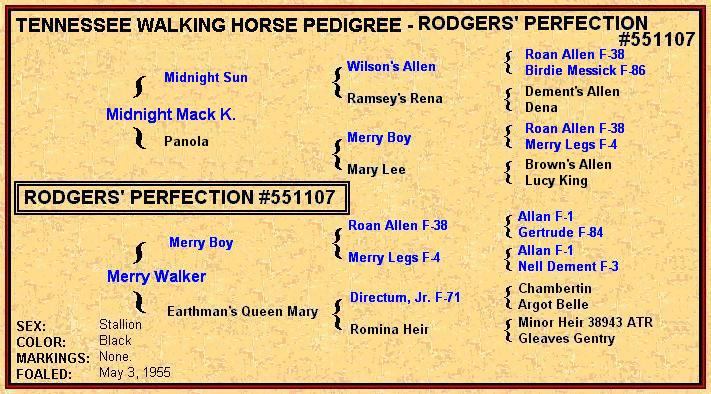 ----- Original Message -----

Sent: Thursday, March 31, 2011 10:25 AM

During the sixties I used to go to the Rogers Farm in Searcy, AR and visit Perfection during his everyday life there. He was a "gentleman" even with in-heat mares around. I was raised around Walkers but Perfection was in a class by himself. Carbon Copy was great too.

Bud Nelson

Venice, FL

----- Original Message -----
Sent: Tuesday, January 30, 2007 10:36 AM
Subject: Re: Rogers Perfection
Yes, it would be fine. We lived in Green Briar, Arkansas, on a farm, then in the middle 50's my grandparents moved to Little Rock, my grandmother, Floyce Duncan was a nurse at the University of Arkansas and my Grandpa worked at the College as a janitor. I lived with them much of my life. He had two draft type mares, he plowed with, he had to sell them, to move to the city. Broke his heart. He sold one of the mares to a man that rode her, we went to Conway to see her in the parade, once, after she had been sold, she was a nice looking, high stepping Belgium type, feathers, white feet, good mane, their names were Pet and Dolly. Anyway, after his move to the city, we would go to the Arkansas Livestock show and Watch the horse shows, he missed that life, but he had a bad back and couldn't do that work anymore. I named my last child after him, Marshall is his middle name.
Having a riding horse was unheard of, back then, he had work horses and mules, from what I remember, they pulled a plow and plowed, pulled up tree stumps, pulled a wagon, worked. We were poor. He always liked the Walkers and Fox trotters, though. He saw a lot of the foundation stock in his lifetime. We followed Dr. Porter Rogers horses. I think Rogers Perfection was the best horse I ever saw, then Carbon Copy came along, that was way back when you used CARBON PAPER to type with make a copy etc.... people don't know what that is nowadays! I remember one time, I went to the horse show with him... oh my gosh.... I think he bought me 10 cones of cotton candy that day... with strict instructions to "Not tell your Grandma" what a treat! I use to have a couple of the pictures I've seen on the internet, they were passed out "Free" . Joe Webb had signed one... I don't know where they went, when my grandpa died and my grandmother moved... long time ago... I treasured those black and whites though.

I even touched Perfection once... through the stall.... I have VIVID memories of his performance... he brought tears to your eyes... I watched my grandpa's eyes well up more than once when he watched him. What a horse!
W

----- Original Message -----
Sent: Tuesday, January 30, 2007 12:07 AM
Subject: Rogers Perfection
Hi,
I was there, in Little Rock Arkansas, with my Grandfather, Marshall C. Duncan, when Rogers Perfection won the Stallion Class and Championship. I was about ten, I'm 57 now. I still remember the thrill. The music from an organ, the spotlight on that black horse, perfect gaits. Took my breath way. I later, with my Grandfather, saw, as I knew him, Perfections Carbon Copy, at the fair grounds in Little Rock. I believe they adjusted his name, later. I watched Joe Webb ride him, I've never forgotten the day, the names of the horse or the experience of seeing such a champion.
My Grandpa passed away, a long time ago, but he would love to know I sent an e-mail about that day.
Wanda Whitten-Cardella

----- Original Message -----
Sent: Saturday, February 14, 2004 10:53 AM
I just found your page and was happy to see Perfections picture. I was very young I think it was around 1959 to the mid
'
60s I had the pleasure of riding Perfection a number of times. Joe was a friend of my father ( Odell Dorsey ) and we raise gaited horses. During several of our visits I enjoyed riding and grooming him. He was truly Perfection!
Ervin Dorsey

----- Original Message -----
From: Jack Gerke
To: walkerswest@walkerswest.com
Sent: Wednesday, October 20, 2004 1:14 AM
Subject: Rodgers Perfection


This is not really a story about Rodgers Perfection. When I was about 14 we bought two horses, mine was a big quarter horse that pulled a buggy and my Dad's was a Tennessee Walker gelding named Fraizers Perfection, a grandson of Rodgers. This was in the U.P. of Michigan. The horse was born around 68 or 69 and we owned him from 74- 76 and had to sell when we moved to Alaska.
We don't know the story but the way we figure this horse was being trained for show and somehow got a cut on his rear quarter and it never healed right so he would drag a hoof funny. Probably why he was gelded and just a riding horse. But talk about a ride. He would go til he fell over dead. I was young and had a lot of energy too. Was the only one of us kids that could ride him and I even went swimming in a pretty deep river. Awesome horse and it still makes my blood pump thinking about him. We would leave him loose in the yard as long as the other horses were tied up he wouldn't go no were, just like a big dog around the house, greeting guests and playing with the real dogs. Only picture I have is my baby brother in an oversized sweatshirt standing on a pad of hay with Frazer eating by his feet.
I've had one Walker since then and hope to find a few to add to our family soon as some things work out. Thanks


----- Original Message -----
From: Joe & Jenny Montgomery
To: walkerswest@walkerswest.com
Sent: Saturday, March 14, 2009 6:51 PM


Hi,

About 6 years ago, I owned one of the last living sons of Rodgers Perfection. He was a sorrel stallion with mixed mane and tail. Was one of the most natural going horses there was. Not to mention his attitude was wonderful for a stallion. He had been a show horse, but was nothing but a love for me. This was some outstanding blood. What a shame there is little left. They are naturals.


Jenny (Tennessee)

If you have a story or photos of Rodgers' Perfection that you would like added to this page,
please forward them to Walkers West.



MAIN - EMAIL WALKERS WEST - STALLIONS - SALE HORSES - TACK - CYBER-BARN TOUR
OFFICE - COLT COLLEGE - BREEDING CONTRACT -
CLIENT COMMENTS - CONTACT
THE ANCESTOR GALLERY -
Tennessee Walking Horse National Museum - Pj Wamble Gallery
TWHBEA COLOR CODES -COLOR CHART - LEGENDS - FOUNDATION BOOK - BREED HISTORY - WORLD CHAMPIONS
GHOST HORSES
- LINKS - BANNERS - RINGS - GUEST BOOK - PHOTO ALBUM
GLOBAL TIME CLOCKS - THE LIBRARY -
PUZZLES - 2017 WALKERS WEST CALENDAR

Walkers West
3236 FM 2578
Kaufman, TX. 75142
Cell (214) 507-6032
Email: walkersw@earthlink.net


We can ship overseas.


<==

Click here for Currency Exchange Rates
COPYRIGHT NOTICE

Hosted on


Last Updated: March 27, 2017