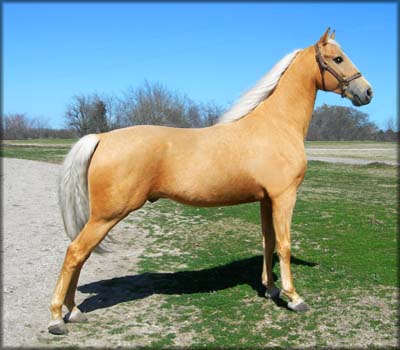 DESCRIPTION
PEDIGREE
EXTENDED PEDIGREE
BREEDING CONTRACT
DESCRIPTION
Introducing The Foundation Gold, a 15.3 hand, golden palomino Tennessee Walking Horse stallion by the late, great The Gold Rush Is On. This beautiful new Walkers West stallion will be making his breeding debut in 2013. Book your mares now so they won't be disappointed.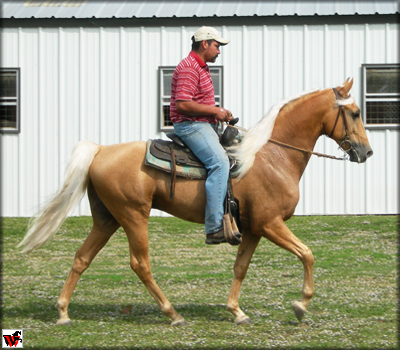 A big thank you to Bill and Francine Janes of Theodore, AL for making it possible for me to again own a great palomino Tennessee Walking Horse, The Foundation Gold. This stallion is a son of The Gold Rush Is On, the wonderful palomino stallion that I owned for 24 years and is as near a reincarnation of Gold Rush as I could ask for. The Janes bred their good mare, Croley's Super Girl, to Gold Rush back in 2004. This mare, like The Gold Rush Is On, had very old bloodlines, thus the name, The Foundation Gold. Check out the indepth pedigree analysis below - it is unlikely that you will find a horse with older bloodlines in the registry. What that means is that if you breed your mare to The Foundation Gold, you are likely to benefit from the very genes that made this breed great originally.

The Foundation Gold has many qualities of his sire....his color .... his gentle temperament.....and his great, natural way of going. He is being offered at stud, to the public in 2013 for the first time in his lifetime. - - ME
Photos by M. E. Areaux
The Foundation Gold lives up to his name. His pedigree contains old blood names like Wilson's Allen, Merry Go Boy, Merry Boy and Midnight Mack K. This glorious golden stallion, a direct son of The Gold Rush Is on, is one of the few stallions standing who can still put Midnight Sun, Merry Go Boy, Wiser's Dimples, Merry Walker and Rodgers' Perfection on a foal's pedigree.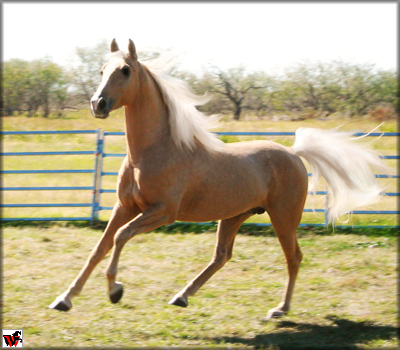 Introductory Stud Fee - $400 LFG
Breeding Contract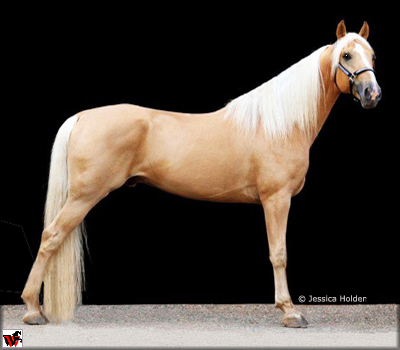 Photo by

Jessica Holder
| | |
| --- | --- |
| | ICEMAN #pend. - Chestnut Tennessee Walking Horse colt, with a strip, snip and both hind socks. He is the first foal by The Foundation Gold, out of Rain's Gay Lady. He is really exceptional. Foaled 03/30/2014. |
PEDIGREE
The genetic contribution of The Foundation Gold's bloodlines have been calculated HERE. It shows him to be nearly the genetic equivalent of a grandson of Midnight Sun and greater than that of a great-grandson of Roan Allen F-38 and Merry Boy. His bloodlines are so old that, in places, it displays 5 generations of Bald Stockings. The analysis breaks down as follows:
Photos of the horses named in blue on the pedigree can be found in the Ancestor Gallery.