15.2 hand, black Tennessee Walking Horse gelding, by Prides Stormy Night x Dimples Choice. He wins blue ribbons every time he is shown, either by amateur or professional rider.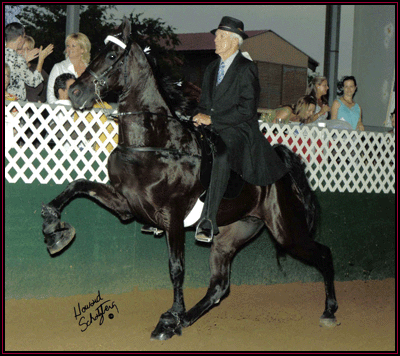 This is W. L. and Stormy's Bad Company at the Big D Charity Horse show. He rode in the ProAm class with Don Crumand won 2nd. Great ride, good class.
Stormy's Bad Company and Don Crum won the prelim

i

nary class for the stake horses and took second in the championship at the Marshall show. He really is a winning show horse!
Our big boy keeps on winning. He's really AWESOME!
He's a big, powerful show horse who is ready to show anytime. His talent is remarkable and

his disposition is always gentle and sweet. He is quiet in the stall and has no bad habits. He has been bathed, groomed and trailered so often that he enjoys it all.
If you are looking for a horse to show and win, this is your boy. Foaled 04/25/1996. Located in Texas.
For more information, contact owner at PH. 903-338-2687 and 903-728-1064.
SOLD
$10,000
US FUNDS
Overseas transport can be arranged.
Photos of the horses named in blue on the pedigree can be found in the Ancestor Gallery.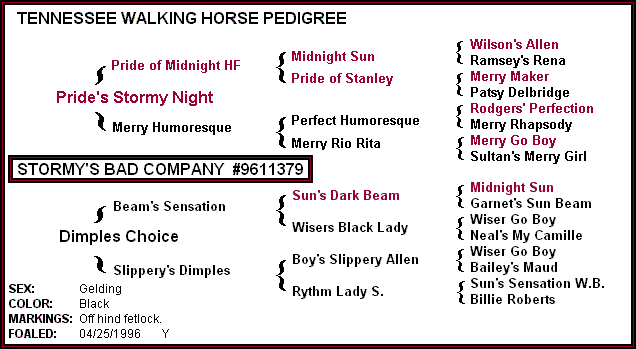 MAIN - EMAIL WALKERS WEST - STALLIONS - SALE HORSES - TACK - CYBER-BARN TOUR
OFFICE - COLT COLLEGE - BREEDING CONTRACT -
CLIENT COMMENTS - CONTACT
THE ANCESTOR GALLERY -
Tennessee Walking Horse National Museum
- Pj Wamble Gallery
TWHBEA COLOR CODES -COLOR CHART
- LEGENDS - FOUNDATION BOOK - BREED HISTORY - WORLD CHAMPIONS
GHOST HORSES
-
LINKS - BANNERS - RINGS - GUEST BOOK - PHOTO ALBUM
GLOBAL TIME CLOCKS - THE LIBRARY -
PUZZLES -
2017 WALKERS WEST CALENDAR

Walkers West
3236 FM 2578
Kaufman, TX. 75142
Cell (214) 507-6032
Email: walkersw@earthlink.net


We can ship overseas.


<==

Click here for Currency Exchange Rates
COPYRIGHT NOTICE

Hosted on


Last Updated: June 12, 2017