This horse is not currently stabled at Walkers West.

SLUSH CREEKS
JUBAL S

ZEPHYR
GOOD AND READY
Bay sabino Tennessee Walking Horse stallion, with four stockings, under belly, bald, mixed tail. (

SLUSH CREEKS JUBAL S

x ZEPHYR GOOD AND READY) Should mature to 15.2 or 3 hands. Beautiful, naturally-gaited Heritage-certified stallion prospect. Foaled 05/03/2009. Horse is located in Montana. Overseas transport can be arranged.
Orlando is a coming two year old stud colt. He is a bay sabino with lots of chrome. He is very smart, learns his lessons quickly and remembers them. He had a lot of ground work done with him last summer with sheets and umbrellas. He loads, leads, picks up his feet, stands for the farrier and even will "shake" his front leg for a cookie.
We feel that Lando possesses many positive qualities and that he is a stallion prospect. At this time we have chosen to leave him intact.
~~Sold~~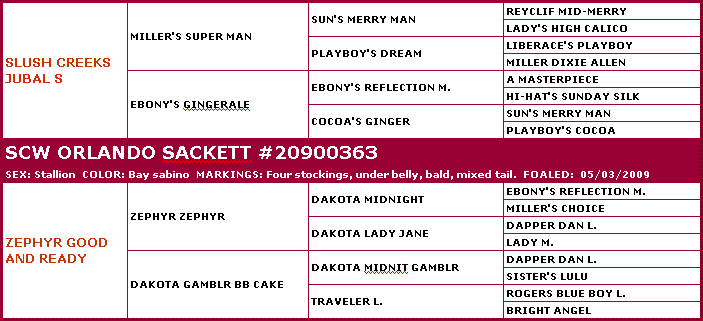 MAIN - EMAIL WALKERS WEST - STALLIONS - SALE HORSES - TACK - CYBER-BARN TOUR
OFFICE - COLT COLLEGE - BREEDING CONTRACT -
CLIENT COMMENTS - CONTACT
THE ANCESTOR GALLERY -
Tennessee Walking Horse National Museum - Pj Wamble Gallery
TWHBEA COLOR CODES -COLOR CHART - LEGENDS - FOUNDATION BOOK - BREED HISTORY - WORLD CHAMPIONS
GHOST HORSES
- LINKS - BANNERS - RINGS - GUEST BOOK - PHOTO ALBUM
GLOBAL TIME CLOCKS - THE LIBRARY -
PUZZLES - 2017 WALKERS WEST CALENDAR

Walkers West
3236 FM 2578
Kaufman, TX. 75142
Cell (214) 507-6032
Email: walkersw@earthlink.net


We can ship overseas.


<==

Click here for Currency Exchange Rates
COPYRIGHT NOTICE

Hosted on