This horse is NOT stabled at Walkers West.
SCW MIDNIGHT SERENADE #21500124 - Big, black Tennessee Walking Horse gelding by Delights Midnight Legend and out of Red Budís Bullet Serenade. He is black with a star and inside off hind fetlock. Should mature to 15.1 hands. He is the last foal by Delights Midnight Legend.

He is eligible for Heritage Society Certification.

Foaled 04/16/2015. Horse is located in Montana. Overseas transport can be arranged. Priced at $2500.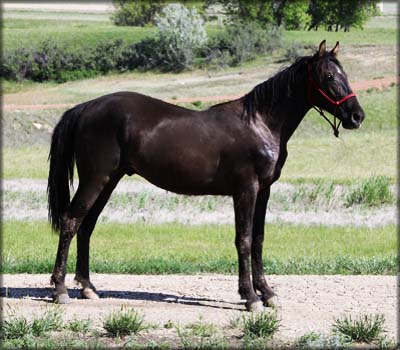 SOLD
For more information, Contact:
Photos of the horses named in blue on the pedigree can be found in the Ancestor Gallery.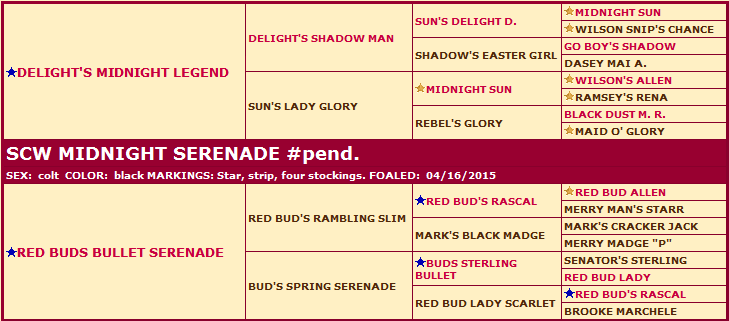 MAIN - EMAIL WALKERS WEST - STALLIONS - SALE HORSES - TACK - CYBER-BARN TOUR
OFFICE - COLT COLLEGE - BREEDING CONTRACT -
CLIENT COMMENTS - CONTACT
THE ANCESTOR GALLERY -
Tennessee Walking Horse National Museum - Pj Wamble Gallery
TWHBEA COLOR CODES -COLOR CHART - LEGENDS - FOUNDATION BOOK - BREED HISTORY - WORLD CHAMPIONS
GHOST HORSES
- LINKS - BANNERS - RINGS - GUEST BOOK - PHOTO ALBUM
GLOBAL TIME CLOCKS - THE LIBRARY -
PUZZLES - 2017 WALKERS WEST CALENDAR

Walkers West
3236 FM 2578
Kaufman, TX. 75142
Cell (214) 507-6032
Email: walkersw@earthlink.net


We can ship overseas.


<==

Click here for Currency Exchange Rates
COPYRIGHT NOTICE

Hosted on


Last Updated: March 28, 2017