This horse is not stabled at Walkers West.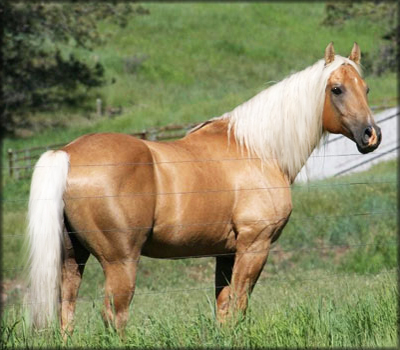 Lad is a 15 year old golden palomino stallion with a smooth natural walk, beautiful conformation, and a gentle disposition. He's a BIG horse, standing 16.3 hands tall and weighing 1200 lbs. Foaled 04/04/1998.
Lad's grandsire is Prides Generator, ranked the leading sire of Tennessee walker broodmares for the past 10 years. His sire is Tennessee Goldust. He also has Go Boy's Shadow, Midnight Sun, Merry Go Boy, Triple Threat, Pride Of Midnight HF, Pride of Stanley, Merry Walker and John A's Chance on his pedigree.
Lad is a proven sire with 26 foals to date. He consistently produces color, conformation, and trainability in to his colts.
Lad is located in Montana and delivery can be arranged.
Contact John Wade PH. 1-406-698-9523 or jcwcol@yahoo.com for more information.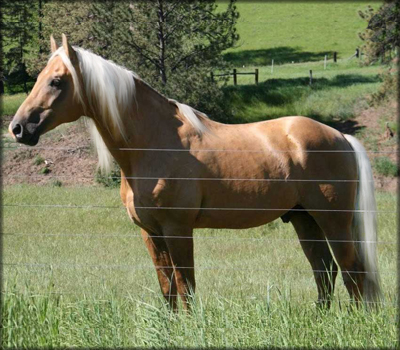 SOLD
Photos of the horses named in blue on the pedigree can be found in the Ancestor Gallery.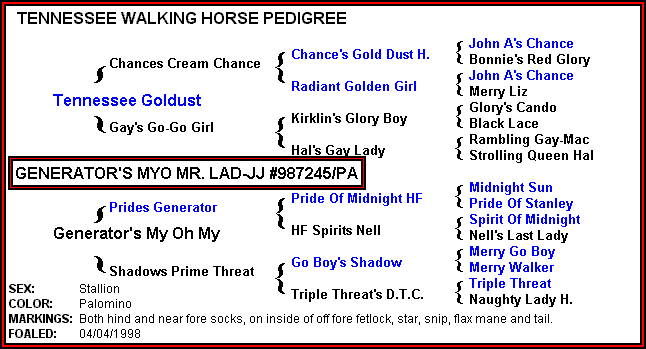 MAIN - EMAIL WALKERS WEST - STALLIONS - SALE HORSES - TACK - CYBER-BARN TOUR
OFFICE - COLT COLLEGE - BREEDING CONTRACT -
CLIENT COMMENTS - CONTACT
THE ANCESTOR GALLERY -
Tennessee Walking Horse National Museum - Pj Wamble Gallery
TWHBEA COLOR CODES -COLOR CHART - LEGENDS - FOUNDATION BOOK - BREED HISTORY - WORLD CHAMPIONS
GHOST HORSES
- LINKS - BANNERS - RINGS - GUEST BOOK - PHOTO ALBUM
GLOBAL TIME CLOCKS - THE LIBRARY -
PUZZLES - 2017 WALKERS WEST CALENDAR

Walkers West
3236 FM 2578
Kaufman, TX. 75142
Cell (214) 507-6032
Email: walkersw@earthlink.net


We can ship overseas.


<==

Click here for Currency Exchange Rates
COPYRIGHT NOTICE

Hosted on


Last Updated: March 28, 2017