This horse is stabled at Walkers West.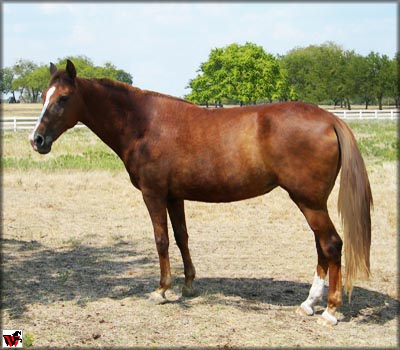 15.2 hand, sorrel Tennessee Walking Horse mare with white markings. Sired by Georgia Firewalker and out of a direct daughter of Spirit Of Apache, she is a granddaughter of Prides Generator. She also has WGCh. The Pusher C.G., Marshall Dillon, Wonder Liz, Dusty Sally, Delight's Cold Ice, Sun-Dust, WGCh. Sun's Delight D., and Sun's Ace Of Spades on her pedigree. She has had two foals. She has been ridden. Foaled 04/26/01.
SOLD
Photos of the horses named in blue on the pedigree can be found in the Ancestor Gallery.
GEORGIA FIREWALKER
PRIDES GENERATOR
PRIDE OF MIDNIGHT H.F.
MIDNIGHT SUN
PRIDE OF STANLEY
H. F. SPIRITS NELL
SPIRIT OF MIDNIGHT
NELL'S LAST LADY
PUSHER'S ALL FIRED UP
THE PUSHER C.G.
DRUG DEALER
GO BOYS BLUE GAL M.
WONDER LIZ
BARNES' WONDER BOY
MERRY BOY'S KATE S.
FIREWALKER'S ICECUBE #20103554
SEX: mare COLOR: sorrel MARKINGS: both hind socks, both fore stockings, blaze.

FOALED: 4/25/2001

APACHE'S ICE LADY
SPIRIT OF APACHE
MARSHALL DILLON
GO BOY'S MAIN EVENT
WONDER LIZ
DUSTY SALLY
SUN-DUST
SANDY SUN'S SALLY
FROZEN DAIQUIRI
DELIGHTS COLD ICE
SUN'S DELIGHT D.
LACKEY'S DARK STAR
ACE'S DAY BREAK
SUN'S ACE OF SPADES
PENNY CHANGE


MAIN - EMAIL WALKERS WEST - STALLIONS - SALE HORSES - TACK - CYBER-BARN TOUR
OFFICE - COLT COLLEGE - BREEDING CONTRACT -
CLIENT COMMENTS - CONTACT
THE ANCESTOR GALLERY -
Tennessee Walking Horse National Museum - Pj Wamble Gallery
TWHBEA COLOR CODES -COLOR CHART - LEGENDS - FOUNDATION BOOK - BREED HISTORY - WORLD CHAMPIONS
GHOST HORSES
- LINKS - BANNERS - RINGS - GUEST BOOK - PHOTO ALBUM
GLOBAL TIME CLOCKS - THE LIBRARY -
PUZZLES - 2017 WALKERS WEST CALENDAR

Walkers West
3236 FM 2578
Kaufman, TX. 75142
Cell (214) 507-6032
Email: walkersw@earthlink.net


We can ship overseas.


<==

Click here for Currency Exchange Rates
COPYRIGHT NOTICE

Hosted on


Last Updated: March 28, 2017