This horse is NOT stabled at Walkers West.
Coach's Cheerleader is a black Tennessee Walking Horse filly, born October 1, 2010. She is by World Grand Champion, The Coach and out of She's A Home Run, a Ted Williams mare. She just became the 2015 Four-year-old World Champion Mare.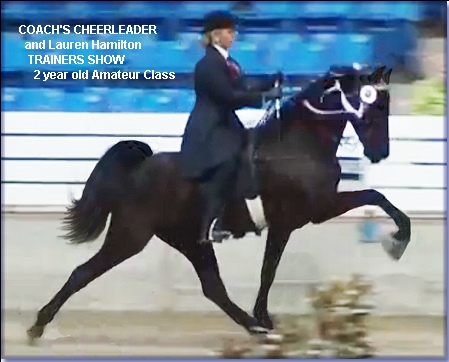 This filly is beautiful and has the best of modern bloodlines. She has a long reaching stride and will make a top show mare of some type.
Coach's Cheerleader just won the Two-Year-Old Riders Cup Mares and Geldings Class at Jackson, Ms.

Coach's Cheerleader came in second in the Two-Year-Old Amateur Class at the Jackson Mississippi show.

She won the Two-Year-Old Mares And Geldings Class, Saturday night at the Magnolia Classic in Tupelo, Ms.

Coach's Cheerleader won the Two-Year-Old Mares And Geldings Class with new trainer, Michael Wright, October 12, 2013 in Tupelo, Mississippi.
Coach's Cheerleader at Parker's Crossroads July 2013
THURSDAY NIGHT HIGHLIGHTS "TRAINERS SHOW"
Coach's Cheerleader in the 2 year old amateur class with Lauren Hamilton rider.
Coach's Cheerleader is Tunica, Ms. bound. She will show in the Two-Year-Old Mare and Gelding Class, Friday night with Michael Wright up. Please cheer for her.
Selling cheap for a filly of this quality. Located in Sikeston, Missouri.
SOLD
For more info, contact
Home 573-471-4352 ~ Cell 573-620-0784
Overseas Transport Can Be Arranged
Pedigree


MAIN - EMAIL WALKERS WEST - STALLIONS - SALE HORSES - TACK - CYBER-BARN TOUR
OFFICE - COLT COLLEGE - BREEDING CONTRACT -
CLIENT COMMENTS - CONTACT
THE ANCESTOR GALLERY -
Tennessee Walking Horse National Museum - Pj Wamble Gallery
TWHBEA COLOR CODES -COLOR CHART - LEGENDS - FOUNDATION BOOK - BREED HISTORY - WORLD CHAMPIONS
GHOST HORSES
- LINKS - BANNERS - RINGS - GUEST BOOK - PHOTO ALBUM
GLOBAL TIME CLOCKS - THE LIBRARY -
PUZZLES - 2017 WALKERS WEST CALENDAR

Walkers West
3236 FM 2578
Kaufman, TX. 75142
Cell (214) 507-6032
Email: walkersw@earthlink.net


We can ship overseas.


<==

Click here for Currency Exchange Rates
COPYRIGHT NOTICE

Hosted on


Last Updated: March 28, 2017