This horse is stabled at Walkers West.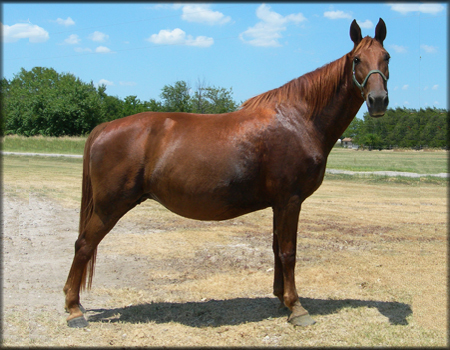 Beautiful 16 hand, chestnut Tennessee Walking Horse mare - very gentle for anyone to ride - very smooth. This grand-daughter of Ebony's Threat A. and Merry Go Boy has an incredible pedigree. Talk about old bloodlines, she also has Merry Boy, Roan Allen F-38, Merry Legs F-4 and Giovanni on her papers, along with World Grand Champions, Triple Threat, Mack K's Handshaker, Midnight Sun and Ebony Masterpiece. She has had 6 foals to date. Foaled 09/12/1992. Located in Texas.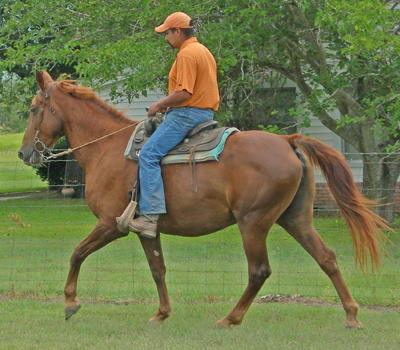 SOLD
Photos of the horses named in blue on the pedigree can be found in the Ancestor Gallery.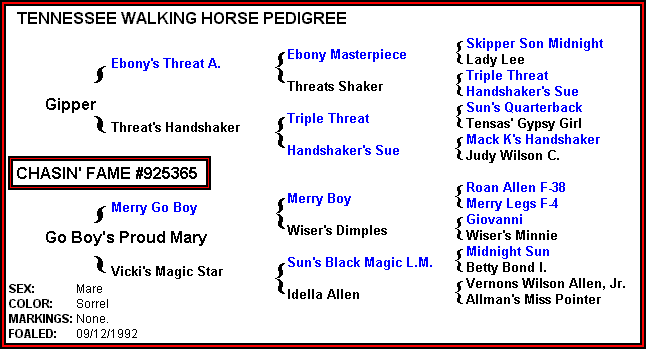 PROGENY
iPeds Production
07/13/13

Horse No: 925365 CHASIN' FAME

Horse No.
Name
Color
Sx
Bl
DN
Foaled
Mare No.
Name
Color
970770
CASH'S CHASIN' FAME
BL
S
Y
N
5/27/1997
825783
COIN'S HARD CASH
BL
19906983
TRIP OF A LIFETIME
PA
S
Y
Y
4/11/1999
923345
TRIP MY TRIGGER
PA
20103602
MY PAPA'S PISTOL
SO
G
Y
N
5/23/2001
850842
GENERATOR'S MY PA PA
CH
20302772
TOP GUN ANNIE
PA
M
Y
N
3/25/2003
971992
ARMED SON OF A GUN
PA
20412902
GUN'S CHASIN' FAME
CH
S
Y
N
10/18/2004
971992
ARMED SON OF A GUN
PA
20709042
CHASIN' THE MOON
PA
M
N
Y
7/29/2007
20212694
SON OF A GUN'S MOONWALKER
CR


MAIN - EMAIL WALKERS WEST - STALLIONS - SALE HORSES - TACK - CYBER-BARN TOUR
OFFICE - COLT COLLEGE - BREEDING CONTRACT -
CLIENT COMMENTS - CONTACT
THE ANCESTOR GALLERY -
Tennessee Walking Horse National Museum - Pj Wamble Gallery
TWHBEA COLOR CODES -COLOR CHART - LEGENDS - FOUNDATION BOOK - BREED HISTORY - WORLD CHAMPIONS
GHOST HORSES
- LINKS - BANNERS - RINGS - GUEST BOOK - PHOTO ALBUM
GLOBAL TIME CLOCKS - THE LIBRARY -
PUZZLES - 2017 WALKERS WEST CALENDAR

Walkers West
3236 FM 2578
Kaufman, TX. 75142
Cell (214) 507-6032
Email: walkersw@earthlink.net


We can ship overseas.


<==

Click here for Currency Exchange Rates
COPYRIGHT NOTICE

Hosted on


Last Updated: March 28, 2017