This horse is not stabled at Walkers West.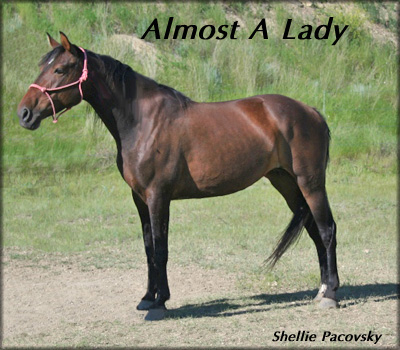 (THREAT'S VANISHING CARBON x STARFIRE'S SCARLET LADY) Pretty 15.1 hand, bay Tennessee Walking Horse mare, with white on both hind fetlocks, a star and a sweet disposition. Well broke, with a very nice, ground-eating gait. She likes people and is easy to catch. She can be bred to any of the three stallions. Selling open. Foaled 04/06/2002. Horse is located in Montana.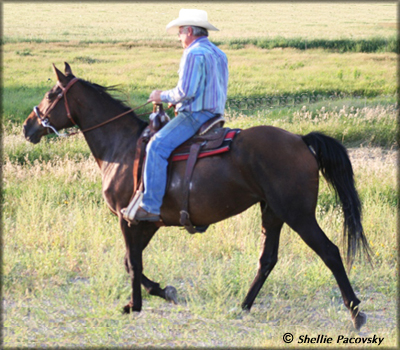 She is broke under saddle but needs a little refresher as she hasnít been ridden since last summer. She has a really nice running walk and she covers the ground quickly. She likes people and will come to you to see what you might have for her whether out in the pasture or in the corral.
We have not owned Almost a Lady for very long. She is very sweet, comes to you out in the pasture. She has a nice gait, nice bone and muscle. We are going to breed her this spring and see what kind of foal we will get.
Mark and Lady on their first ride this year.
Mark did ride her last summer. She likes people and is easy to catch. Mark will start riding her again as soon as the weather breaks. She can be bred to any of the three stallions.
Mark and Lady working cattle.
~~SOLD~~
For more info, contact:
Mark and Shellie Pacovsky
Bainville, MT
PH. 406-769-2971
Cell 406-769-7971
pacovsky@slushcreekwalkers.com
Reference horses courtesy of

The Ancestor Gallery
THREAT'S
VANISHING CARBON
SHADES MAGICIAN

SHADES OF CARBON G. L.

GLL'S CARBON COPY

SIR MAU'S MISTY MAID
MAGIC'S ANN L. M.

SUN'S BLACK MAGIC L. M.

SUN'S ANN
GUNSMOKES MIDNIGHT THREAT
BLUE GUNSMOKE
MIDNITE PLEASURE, JR.
GUNSMOKE'S DOLL
MERRY TRIP-A-THREAT
LITTLE THREAT
MISCHIEF'S MARIE
ALMOST A LADY #20206986
SEX: Mare COLOR: Bay MARKINGS: On both hind fetlocks, star. FOALED: 04/06/2002
STARFIRE'S
SCARLET LADY
DOLL'S STARFIRE
CARIBOU'S SPIT FIRE
MERRY GO RAMBLER
BEAUTY'S CHEYENNE
DAKOTA MAUD STAR
DAPPER DAN L.
DAKOTA JENNIE
CARA'S GOLDEN QUEEN
DAKOTA MIDNIGHT
EBONY'S REFLECTION M.
MILLER'S CHOICE
CARA MIA
ZEPHYR'S GOLD PRIDE
FLASH'S STONE DIXIE


MAIN - EMAIL WALKERS WEST - STALLIONS - SALE HORSES - TACK - CYBER-BARN TOUR - FACILITIES - CONTACT
MAP -
AERIAL VIEW - OFFICE -
COLT COLLEGE - NEW FOALS - BREEDING CONTRACT-
CLIENT COMMENTS
THE ANCESTOR GALLERY -
Tennessee Walking Horse National Museum - Pj Wamble Gallery
TWHBEA COLOR CODES -COLOR CHART - LEGENDS - FOUNDATION BOOK - BREED HISTORY - WORLD CHAMPIONS
GHOST HORSES
- TEXAS HORSEBACK EVENTS SCHEDULE - LINKS - BANNERS - RINGS - GUEST BOOK - PHOTO ALBUM
GLOBAL TIME CLOCKS - THE LIBRARY -
PUZZLES - 2017 WALKERS WEST CALENDAR

Walkers West
3002 FM 2728
Kaufman, TX. 75142
Cell (214) 507-6032
Email: walkersw@earthlink.net


We can ship overseas.


<==

Click here for Currency Exchange Rates
COPYRIGHT NOTICE

Hosted on


Last Updated: December 27, 2016