World Grand Champion in 1981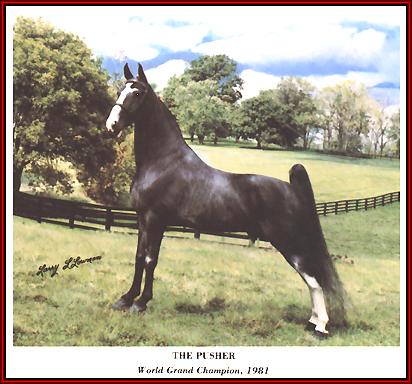 The Pusher C. G. #725575
Thunderous crowd approval echoed the announcement that The Pusher, trained and ridden by Bob McQuerry, had been selected by the judges as the World Grand Champion of the 1981 Tennessee Walking Horse National Celebration.

The victory for the horse, his trainer, and his owners, the Joe Dietz Family Joe, Jo Ann, 'and Sherri of New Castle, Indiana, towered over both earlier pinnacles and disappointments. The nine year old blue roan stallion had, for three consecutive years, won the International Stake Championship at Murfreesboro; Sherri Dietz had won the Celebration's Amateur World Championship title with him and had never been defeated in amateur competition.
| | |
| --- | --- |
| On the minus side of the ledger, prospects for the World Grand Championship in the 1980 Celebration failed to materialize when The Pusher was reserve in both his preliminary class and in the championship stake. He also took a disappointing second place in the qualifying class at the 1981 Celebration. But when Bob McQuerry reined The Pusher around the Celebration ring in his victory pass, it ended a smooth walking journey that had started several years before in the warm up ring scarcely 300 yards away. The victory strut of the new World Grand Champion, accompanied by the screams and yells of the huge Saturday night crowd, was quite a contrast to The Pusher's first appearance on the Celebration Grounds. | |
The Pusher's immediate ancestry was not well known; his sire was The Drug Dealer; his dam was Go Boy's Blue Gal. Neither was a world champion. But there were illustrious names among his grandsires: Merry Go Boy and Midnight Sun and, a little farther back, Wilson's Allen, Sam Allen, Brantley's Roan Allen, Jr., and Merry Boy. Both his coloring and his walking are traceable to great walking horse blood of his forbears.
His breeder, Charles E. Gavin III, had brought the "green broke" two year old up from Fortson, Georgia, for the sole purpose of catching the eye of a prospective buyer. He was not a competitor on that occasion and was exhibited by two of Gavin's children in the warm up ring. The loose, easy gait of the blaze face roan with two hind stockings caught the attention of two Wisconsin horsemen, Larry Pickhardt and Evan Sherburne, who shortly afterwards became his new owners. The horse was taken to Wisconsin and placed in training with Bryant Fly, who developed him into a performer that demanded serious consideration. It was at this point, in September, 1978, that The Pusher became the property of the Dietz family and the mount of their daughter, Sherri, in amateur competition, under the training of McQuerry, of Danville, Kentucky.

The Pusher has served as a worthy representative of the walking horse industry throughout the world. He led the Tennessee delegation in the International Lions Club parade in Chicago in 1980, a convention attended by representatives of 123 countries. And early in 1981, The Pusher made an historic trip to England to participate in a Walking Horse Owners' Association exhibition at the famed Olympia International Championship in London.
With his style and performance, his conformation and disposition, The Pusher has earned the highest awards offered by the Walking Horse industry and these characteristics will, no doubt, serve him well in the future.
On Tuesday, October 2, 2001, The Pusher C. G. was laid to rest. After consulting with Dr. John Bennett, it was decided that the 29 year old stallion would humanely put down with the same class and dignity he carried throughout his entire career. He sired 1610 foals during his reign as one of the leading sires in the industry.

The Pusher C. G. made his home at Joe Martin Stables in Shelbyville, Tenn. for the past 13 plus years and had received the best quality of care under stallion manager, Bobby Burton. - - JH
THE PUSHER C.G. PROGENY PAGES
xx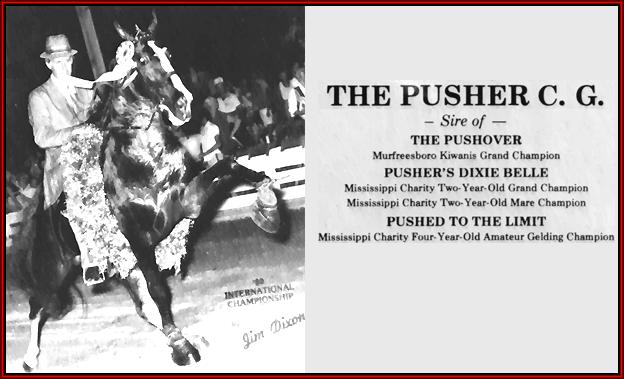 If you wish to print off this pedigree, click HERE to load a black and white copy.

From: shennon
Sent: Tuesday, October 30, 2007 9:16 PM
Subject: Meeting "The Pusher" when I was a little girl
Hi!, My name is Shennon Wagle. My mom showed her walker "Drummer's Delight" when I was a young kid. We LIVED at the fair grounds. I'd seen The Pusher several times. One year while walking through the barns after a show, my friend Kendra and I stopped to see The Pusher. We were so excited when we were invited to sit on him for a brief moment. Both of us! I think we were around 10 years old. We're 37 now and that is a memory I will never forget. I was just showing my kids a picture of The Pusher and remembered that night. Somewhere I still have my red button with a black image of The Pusher that says Pushin' The Pusher. He was a big beautiful horse. Thanks for the memories and thanks for letting us sit on him!!!!

That is a great story. It's just amazing that what seems like a small thing that someone did for you made a lasting memory. I understand perfectly. That had to be a thrill - especially for someone that recognizes the fame of that particular horse.

Pusher was a wonderful, gentle horse. I used to visit him at Joe Martin's stable and on 2 or 3 occasions, I was in his stall with him and he was a sweetheart unlike some stallions that seem to get mean once they start breeding them.

Thank you for sharing your memories with us.

Mary Ellen Areaux
Walkers West

----- Original Message -----
From: J. Gary Puckett
Sent: Sunday, January 11, 2009 9:23 PM
Subject: The pusher

He may be the greatest walking horse that's every been. I was his groom at Bob Mcquerry Stables after he won the world championship in Shelbyville. During his exposition year that followed his win I was honored to be a small part of his life. I got the chance only a few people got to do ride him, keeping him "legged up". what a memory that I would carry with me today. He was alot of fun to take care of, he loved to drink a pop I had not finished from time to time. As I was part of his new breeding career he handled it well and loved life. Far from the ring where he carried the roses he was a champ every day. At the time I never realized I had crossed paths with the greatest horse that would every live, I'll miss him and thank Bob for giving me a chance of a life time I enjoyed the ride thanks "Push" Gary Puckett

If you have a story or photos of The Pusher
that you would like added to this page, please forward them to Walkers West.


MAIN - EMAIL WALKERS WEST - STALLIONS - SALE HORSES - TACK - CYBER-BARN TOUR
OFFICE - COLT COLLEGE - BREEDING CONTRACT -
CLIENT COMMENTS - CONTACT
THE ANCESTOR GALLERY -
Tennessee Walking Horse National Museum - Pj Wamble Gallery
TWHBEA COLOR CODES -COLOR CHART - LEGENDS - FOUNDATION BOOK - BREED HISTORY - WORLD CHAMPIONS
GHOST HORSES
- LINKS - BANNERS - RINGS - GUEST BOOK - PHOTO ALBUM
GLOBAL TIME CLOCKS - THE LIBRARY -
PUZZLES - 2017 WALKERS WEST CALENDAR

Walkers West
3236 FM 2578
Kaufman, TX. 75142
Cell (214) 507-6032
Email: walkersw@earthlink.net


We can ship overseas.


<==

Click here for Currency Exchange Rates
COPYRIGHT NOTICE

Hosted on