World Grand Champion in 1982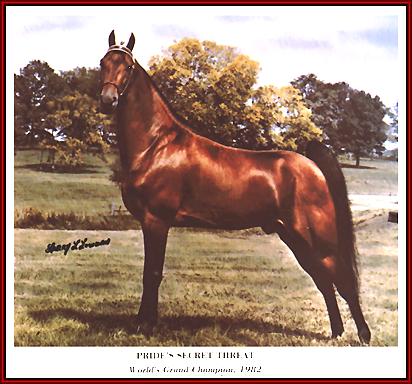 Pride's Secret Threat #773242
Pride's Secret Threat, by Pride of Midnight and out of Triple Threat Rose, was foaled March 26, 1977, at
C. A. Bobo & Sons Stables, Shelbyville. When he went under saddle there, he caught the eye of Billy Gray who helped negotiate the purchase of the young stallion by Billy Hale of Gallatin, Tennessee.

As the property of Hale, Pride's Secret Threat started his string of victories when Billy Gray rode him to his first blue at the National Trainers Show in 1979. The pair went into The Celebration that year undefeated. Despite the reserve tie in the preliminary, they came back strongly to win the 1979 Two Year-Old World Grand Championship.
Then, after taking the Three-Year-Old Stallion Championship at the 1980 Trainers Show, Secret Threat was sold to Sand Creek Ranch for a reported $125,000, the highest price ever paid for a three-year-old. Under the joint ownership of Billy Gray and the California group, Billy continued to hold the trainer's reins as Secret Threat entered the 1980 Celebration with an undefeated season. They won both the preliminary and the Three-Year-Old Championship Stake.

Billy Gray and Secret Threat swept trough the 1981 season, again undefeated, with wins at Bowling Green, Kentucky; Gallatin, Joelton, Bethesda and Belfast, Tennessee, to go into the Celebration as a favorite four-year-old. A disappointing preliminary round for the team apparently set the stage for one of the greatest performances of their collective careers in sweeping a unanimous decision to win the Junior World Grand Championship.
The following year, Billy Gray and Pride's Secret Threat, displaying the Floral Horseshoe and ribbons of the World Grand Championship, made their victory pass around the famed show ring, after winning the 1982 Tennessee Walking Horse National Celebration at Shelbyville, Tennessee.

Never before in the previous 43-year history of the Tennessee Walking Horse National Celebration had any horse won them all - World Grand Championships as a two-, three-, four and five-year-old. But Billy Gray and Pride's Secret Threat recorded that unique accomplishment on Saturday night, September 4, 1982, with a sweep of first place votes on the cards of Celebration judges. Retirement plans for the horse were voiced in the early Spring of 1982 when Billy Gray boldly announced his intentions to campaign for the World Grand Championship.
"What else is there?" Billy asked, adding that Secret Threat would be retired to stud after winning the Big Stake. "It would be a great asset to the Walking Horse industry when he goes to stud," Billy said then, "The industry needs a great stud horse and new blood."

"We feel that Secret Threat is already well on his way to proving himself as a sire," Billy said after training and riding the big bay stallion to the exclusive circle of World Grand Champions. Billy Gray is no stranger in that circle, however. He was trainer and rider of Delight Bumin Around, 1973 World Grand Champion.

"He's by far the greatest horse I've ever had anything to do with," Billy said. "He's everything you want in a stake horse; he's everything you want in a sire."
| | |
| --- | --- |
| Proving the prophecy of Billy's statement, Pride's Secret Threat already had an outstanding crop of weanlings on the ground, and his court was booked with mares wearing world champion titles. | |
Secret Threat died suddenly of Colitis X, later in the year, having sired 167 colts. Sadly, the world was cheated out of rest of the outstanding progeny he would, no doubt, have produced.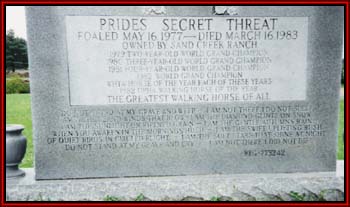 Interview with Billy Gray
If you wish to print off this pedigree, click HERE to load a black and white copy.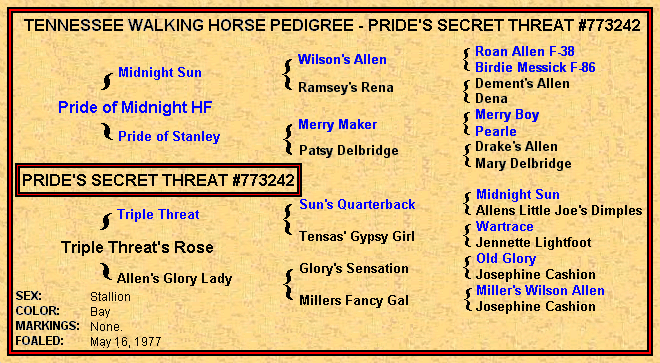 ----- Original Message -----
From: storm
To: walkerswest@walkerswest.com
Sent: Monday, June 27, 2005 2:52 PM
Subject: Prides Secret Threat

In 1979 I was in middle Tennessee with a friend and her father, Bill and Kecia Wampler. She had just purchased a mare named Red Streaker when they went on to win the 12 to 14 world grand championship the following year. But I was in the presence of greatness during that time. Billy Gray was training Streaker and was also campaigning Threat as 2 year old. I remember going over to the stable (Wamplers Mobile Home was on the property) and they would have Secret Threat in the cross ties, getting him ready to work him and I would walk up to him and rub his neck and talk to him... he was the sweetest stud I had ever groomed, he had wonderful manners, and was very patient. He suddenly became a favorite of mine and I would go visit him every day while we were there on through the Celebration.
The day of the 2 year old championship I even helped them braid him up for the show... I was even more proud when I was there, sitting in the foul weather watching greatness "Strut His Stuff" and win the 2 year old championship. And back at the show barn was given a red carnation off of his wreath and toasted his victory with a glass of champagne. That had been many years ago and I have often thought of this wonderful stallion that won my heart. I will always remember him

Pamelia Sparks

What a wonderful story. Pride's Secret Threat was such an awesome horse. I didn't have the pleasure of being as close to him as you were, but I remember sitting on the rail at the Celebration and seeing him win his class - either the 3 year old or 4 year old -- I cannot remember -- but he was awesome. He was in a class by himself - there wasn't a horse in the class that could come close to giving him a run for his money -- he was miles above the rest.

It's such a tragedy that he died at such a young age. He would, no doubt, have made a tremendous contribution to the breed as a breeding stallion.
If it is O.K. with you, I would love to put your email on his page on my website. I am sure other people would enjoy reading about your wonderful experience.
Thank you for sharing it with me.
Mary Ellen Areaux
Walkers West
Kaufman, TX

Hello
i am chelsea, billy gray's granddaughter. and i could not be more impressed by this article. all my life i have heard how terrific Secret was and i can tell you from a personal view that he truly meant the world to my pop. Ironically enough, my grandfather has put just as much time and effort into another great horse, Naples Ritz, and as fate seems to have it Billy, pop, will have the opportunity to carry a set of roses out 27 years later to the date that he achieved the impossible on Secret. So thanks to everyone and their thoughts you all have truly made my grandpas life.
sincerely,
chelsea
---
Chelsea
How lucky are you!!!!!! To have Billy Gray as your grandfather!!!!! It doesn't get any better than that!!! Yes, Pride's Secret Threat was truly magnificent. I saw him show a number of times, including winning the WGC..... From my perspective, there was not another horse in the ring!!!! Secret was so good, you could not take your eyes off him. There was Secret.......and then there were all the other horses. It absolutely broke my heart that Secret died at such an early age - he had so much to give to the Walking Horse breed.
Thank you for writing and I wish Billy and Naples the very best at the Celebration this year....I'll be there cheering them on.

If you have a story or photos of Pride's Secret Threat
that you would like added to this page, please forward them to Walkers West.


MAIN - EMAIL WALKERS WEST - STALLIONS - SALE HORSES - TACK - CYBER-BARN TOUR
OFFICE - COLT COLLEGE - BREEDING CONTRACT -
CLIENT COMMENTS - CONTACT
THE ANCESTOR GALLERY -
Tennessee Walking Horse National Museum - Pj Wamble Gallery
TWHBEA COLOR CODES -COLOR CHART - LEGENDS - FOUNDATION BOOK - BREED HISTORY - WORLD CHAMPIONS
GHOST HORSES
- LINKS - BANNERS - RINGS - GUEST BOOK - PHOTO ALBUM
GLOBAL TIME CLOCKS - THE LIBRARY -
PUZZLES - 2017 WALKERS WEST CALENDAR

Walkers West
3236 FM 2578
Kaufman, TX. 75142
Cell (214) 507-6032
Email: walkersw@earthlink.net


We can ship overseas.


<==

Click here for Currency Exchange Rates
COPYRIGHT NOTICE

Hosted on