World Grand Champion in 1949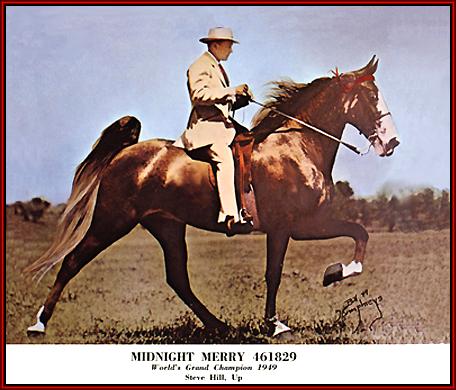 A mare, Midnight Merry #461829, was declared winner of the Grand Championship Stake at the 1949 Celebration. This broke a four-year string of wins by the stallions Midnight Sun and Merry Go Boy, who had each been winners for two consecutive years. Not only did the mares dominate the 1949 Celebration, Midnight Merry was winner of the championship event while still a three year-old! She had the distinction of being the first junior horse (three-year-old animals were the juniors in those days) to win both the Junior and Senior Stake at the Celebration on successive nights.
Midnight Merry was the first Grand Champion of the Celebration to be sired by a former World's Grand Champion. Her sire was Midnight Sun 410751 and her dam was Merry Giovanni 421612, a daughter of Reynold's Pride 400228. The sire of Reynolds Pride was old Merry Boy himself. He, of course, being by Roan Allen F-38. The dam of Merry Giovanni was Bonner's Lady Love 390863 by Giovanni's Allen 390104 by Giovanni 370291. The third dam of Midnight Merry was Bonner's Lady Allen 410235.
Midnight Merry was foaled on May 5, 1946. She was bred by Mrs. H. Dawson Morgan of Cookeville, Tennessee. She was a handsome roan mare with four stockings, a bald face, and with a mixed mane and tail.
| | |
| --- | --- |
| | Midnight Merry was trained and shown by Steve Hill of Beechgrove, Tennessee. At the age of three, Midnight Merry had won seven championships prior to Celebration time that year. She was an outstanding winner of the event for three year-old mares in the preliminary and decisively defeated all contenders in the stake event for junior horses on Friday night. Her stamina was established without question when she returned the following night to be tied first in the Grand Championship Stake. The win in 1949 was the first of many Celebration championships for rider Steve Hill. Midnight Merry was winner of one-hundred and six straight blue ribbons until the 1950 Grand Championship Stake at the Celebration in which she tied reserve. |
The Grand Championship Stake at the 1949 Celebration is still talked about by those who were present, because the scene was set on that eventful night for the tremendously exciting "head and head" workout between the smooth going junior mare and the long striding, spectacular Old Glory's Big Man. The workout was long and arduous with each of these two top contenders seemingly getting stronger and better with each succeeding trip around the huge Celebration ring. Finally, the three judges working the stake declared Midnight Merry the Grand Champion Walking Horse of the World for the 1949 season. Midnight Merry was the first Grand Champion from the Steve Hill Stables. She won a tremendous victory over Old Glory's Big Man in the head and head workout.

J. N. McEachern of Atlanta, Georgia was owner of Midnight Merry during the time she was a big winner at the Celebration. She was sold to W. M. Duncan of Inverness, Mississippi on May 1, 1950, but she continued her training and winning under the tutelage of Steve Hill from his stables in Beechgrove, Tennessee.
If you wish to print off this pedigree, click HERE to load a black and white copy.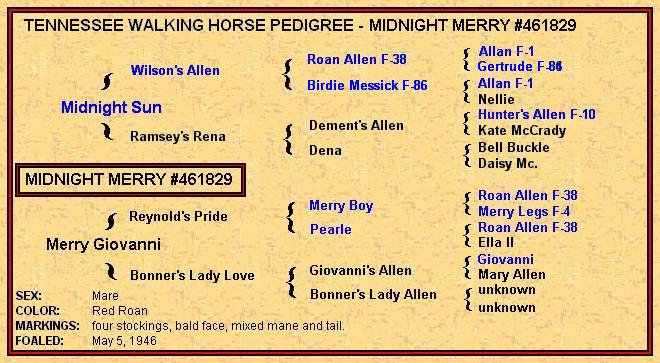 MAIN - EMAIL WALKERS WEST - STALLIONS - SALE HORSES - TACK - CYBER-BARN TOUR
OFFICE - COLT COLLEGE - BREEDING CONTRACT -
CLIENT COMMENTS - CONTACT
THE ANCESTOR GALLERY -
Tennessee Walking Horse National Museum - Pj Wamble Gallery
TWHBEA COLOR CODES -COLOR CHART - LEGENDS - FOUNDATION BOOK - BREED HISTORY - WORLD CHAMPIONS
GHOST HORSES
- LINKS - BANNERS - RINGS - GUEST BOOK - PHOTO ALBUM
GLOBAL TIME CLOCKS - THE LIBRARY -
PUZZLES - 2017 WALKERS WEST CALENDAR

Walkers West
3236 FM 2578
Kaufman, TX. 75142
Cell (214) 507-6032
Email: walkersw@earthlink.net


We can ship overseas.


<==

Click here for Currency Exchange Rates
COPYRIGHT NOTICE

Hosted on