| | |
| --- | --- |
| Merry Go Boy Silver Anniversary | |
All photos on this page are courtesy of Ray Corum of Ray Corum Stables. Thank you, Mr. Corum for helping to keep the memory of this wonderful show horse alive.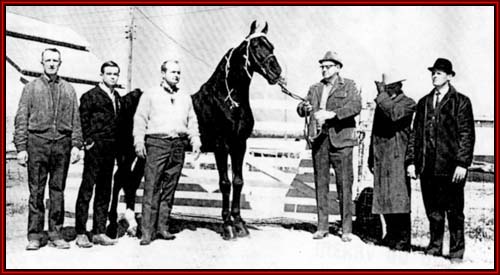 THINKING ABOUT THE PAST - In a line-up with Go Boy, the people
who have worked with him in the past are proud of this stallion. Left to right: J. C. Cole, Ray Beech,
Steve Beech, S.W. Beech, J. French Brantley (adjusting his hat), and Charlie Brantley.
YESTERYEAR - This advertisement appeared in 1950 on the back cover of a national breed publication. He was then a seven-year-old.
DAILY ACTIVITY - J. C. Cole (right) and his son Ronnie remove the blanket on Merry Go Boy prior to the picture-taking session. J. C. Cole took care of this fine stallion after he was moved to the Beech Stables in 1954.
STILL SPRY AND LOOKING - As Mrs. Kathryn Wiser holds the lead line, Merry Go Boy is still attentive to activity around him. He was still a fine representative of the breed, and Mrs. Wiser was proud of the example that was set by the late Winston Wiser and this horse.
| | |
| --- | --- |
| | STILL A FINE LOOKING SPECIMEN - Mr. J. French Brantley (left) discusses the condition of a twenty-five year old Merry Go Boy with S. W. Beech. Mr. Brantley stood this fine stallion on his return to Middle Tennessee in 1949. |
| ON OUR FRONT COVER - on the front cover of this year's Blue Ribbon (1948) is Merry Go Boy, Champion Walking Horse of the World at the 1947 Celebration. Winston Wiser of Shelbyville is up. | |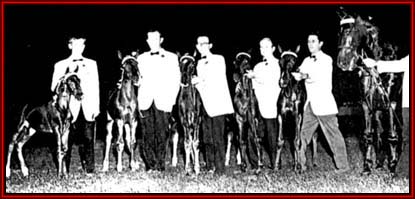 HIS FINAL CELEBRATION VICTORY - A great horse looks down the line of his progeny, not knowing that it is his last trip to the show ring. He won the Get of Sire Class in 1967.
Claude Jarman, Jr., realized a prized desire.. to ride Champion Merry Go Boy.
Shown here with 'Jody' and Merry Go Boy are left, Eddie and right, Bobby,
sons of Winston Wiser, who rode the black stallion to World Championship Honors.

THE TENNESSEE WALKING HORSE, OCTOBER, 1947
**If you have photos of Merry Go Boy that you would like added to this page, please forward them to Walkers West.




MAIN - EMAIL WALKERS WEST - STALLIONS - SALE HORSES - TACK - CYBER-BARN TOUR
OFFICE - COLT COLLEGE - BREEDING CONTRACT -
CLIENT COMMENTS - CONTACT
THE ANCESTOR GALLERY -
Tennessee Walking Horse National Museum - Pj Wamble Gallery
TWHBEA COLOR CODES -COLOR CHART - LEGENDS - FOUNDATION BOOK - BREED HISTORY - WORLD CHAMPIONS
GHOST HORSES
- LINKS - BANNERS - RINGS - GUEST BOOK - PHOTO ALBUM
GLOBAL TIME CLOCKS - THE LIBRARY -
PUZZLES - 2017 WALKERS WEST CALENDAR

Walkers West
3236 FM 2578
Kaufman, TX. 75142
Cell (214) 507-6032
Email: walkersw@earthlink.net


We can ship overseas.


<==

Click here for Currency Exchange Rates
COPYRIGHT NOTICE

Hosted on