World Grand Champion in 1942
As the 1942 Celebration came close at hand, Melody Maid, a pretty, airy chestnut mare, then a five-year-old, was currently talked about as being a likely prospect for the big crown that year. Melody Maid, owned by Mr. and Mrs. Frank D. Rambo, Oakwood Acres, Fayetteville, Tennessee, was sired by Wilson's Allen and was out of Topsy Kidd. Topsy Kidd was bred to Wilson's Allen while she was owned by J. L. Kidd of Morrison, Tennessee. However, before the foal was born, Mr. Rambo had bought this wonderful brood mare and Melody Maid was foaled at Oakwood Acres.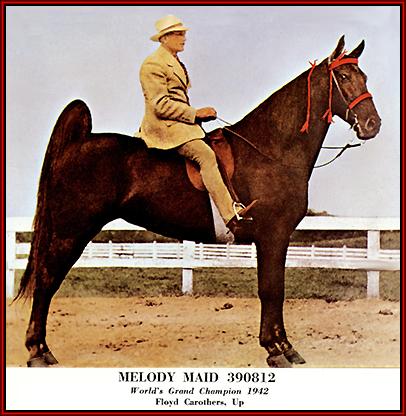 Melody Maid was the third Grand Champion Walking Horse of the World sired by Wilson's Allen, and this was just another one of the facts which, in those days, helped establish him as the leading sire of Tennessee Walking Horses then in the show rings. With the exception of Black Angel, Wilson's Allen was sire of all of the Grand Champions from the first showing in 1939 through 1946.

Topsy Kidd was by Ramsey's Frank Allen 390607 and he was by Jim Allen, a son of Roan Allen F-38. Melody Maid's second dam was Daisy Kidd 004407 by the foundation sire Bob Robertson F-89. The third dam was Mag Womack by Frank Hollie and the fourth dam was a daughter of Grey Hal.

She had a great and colorful show career which was started as a two-year-old when she won the filly class at the Celebration's 1939 show. She was shown many times and to lots of blues at the better shows over Tennessee and the South during her career, defeating many of the top show animals of the day.

In 1940 Melody Maid was taken to Memphis to participate in the famous LeBonheur Horse Show and was awarded the Grand Championship. She repeated this win in 1941 and again in 1942. During this time Melody Maid was being shown consistently throughout the South, and her name had become familiar to all the current owners and breeders of the day. She was named Grand Champion at the Kentucky State Fair in 1940 and claimed this same title at the 1941 Tennessee State Fair. She also won the Grand Championship Stake at the Lexington Junior League Horse Show in 1942.

Melody Maid was the first of three mares to win the Grand Championship, and these mares were victorious on three consecutive years. The Celebration was already a show with prestige after only three years, and a win there was acknowledged by knowing walking horse owners and trainers as the ultimate for the Tennessee Walking Horse.

Melody Maid was ridden by Floyd Carothers on that memorable night when she was crowned Grand Champion Walking Horse of the World in 1942. Afterwards she was retired from the show ring. She was a wonderful walking mare and had won practically every major championship title of her day. To all horsemen the fond memory of this great show mare and her famous nodding walk remains.

Melody Maid was the second Grand Champion trained and exhibited by the famous Floyd Carothers. He was also the rider of Strolling Jim, the very first Grand Champion, at the 1939 Celebration.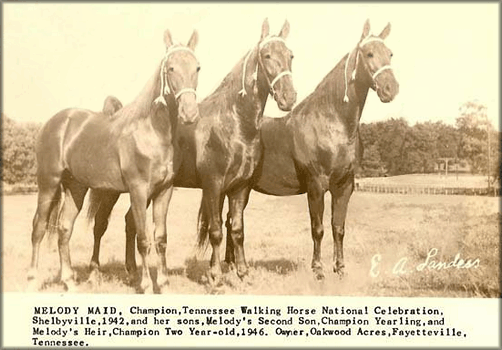 If you wish to print off this pedigree, click HERE to load a black and white copy.

MAIN - EMAIL WALKERS WEST - STALLIONS - SALE HORSES - TACK - CYBER-BARN TOUR
OFFICE - COLT COLLEGE - BREEDING CONTRACT -
CLIENT COMMENTS - CONTACT
THE ANCESTOR GALLERY -
Tennessee Walking Horse National Museum - Pj Wamble Gallery
TWHBEA COLOR CODES -COLOR CHART - LEGENDS - FOUNDATION BOOK - BREED HISTORY - WORLD CHAMPIONS
GHOST HORSES
- LINKS - BANNERS - RINGS - GUEST BOOK - PHOTO ALBUM
GLOBAL TIME CLOCKS - THE LIBRARY -
PUZZLES - 2017 WALKERS WEST CALENDAR

Walkers West
3236 FM 2578
Kaufman, TX. 75142
Cell (214) 507-6032
Email: walkersw@earthlink.net


We can ship overseas.


<==

Click here for Currency Exchange Rates
COPYRIGHT NOTICE

Hosted on