World Grand Champion in 1996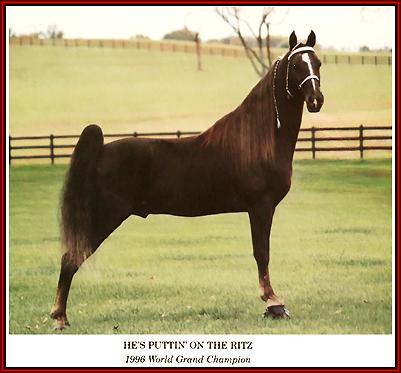 He's Putting On The Ritz #910382
The subject of much conversation and speculation just prior to his two-year-old show season in 1993, He's Puttin' On The Ritz made his ring debut at the National Trainers' Show just months after his purchase by William B. and Sandra Johnson of Atlanta, Ga., and Shelbyville, Tenn. William Johnson had given Flip Cook instructions to find him a colt to fit the name of He's Puttin' On The Ritz. "I had heard about a colt that Billy Gray had that was real wild but real good," said Cook. "I went to see him, and I knew right off that he was the one. He held his head high, and he was real elegant looking; he was just the best I had ever seen."
After reporting his find to the Johnson's, Cook was given the okay to purchase the colt, but he wanted Mr. Johnson to see him first. The two flew to Shelbyville, and Johnson was as impressed as Cook. The rest is history.
| | |
| --- | --- |
| | Under the direction of Shelbyville's Sand Creek Farms' father/son team of Billy and Tim Gray, the exciting performer rose to all expectations that year, claiming the title of Two-Year-Old World Grand Champion, and the Walking Horse Trainers' Association and Walking Horse Report's Two-Year-Old Horse of the Year honors. The Stallion maintained impressive acclaim in his three-year-old competition season, much like the second verse of the victory song. Having won various one-night horse shows, He's Puttin' On The Ritz remained undefeated in his show ring career. |
Tim Gray took the reins at the 1994 Celebration, due to rider Billy Gray being sidelined with health problems, and captured both the Three-Year-Old Stallion title and the Three-Year-Old World Grand Championship. Later that year, no one was surprised when Ritz was named Horse of the Year.
| | |
| --- | --- |
| As a four-year-old contender, he was selectively shown during the summer show season with sites set on the Four-Year-Old World Grand Championship. Unfortunately, a foot injury sidelined the athlete, preventing him from participating in the final event. Ritz was moved to the newly constructed Waterfall Farms facility located in Shelbyville, Tenn., in October of his four-year-old year. There he became partners with his new trainer Sammy Day and began his first season as a breeding stallion. | |
A victory pass at the World Cup Spring Premier horse show in Calsonic Arena headlined their 1996 campaign for the World Grand Championship title. Wins at Owingsville, Ky., and Belfast, Tenn., followed.
A crowd pleaser since his show ring debut, Ritz entered the ring on August 24, 1996, to a roaring crowd. As the "A" division of the aged stallion class came to an end, Ritz continued to thrill the crowd with his high-headed show ring charisma. The once wild colt, now a gentle chestnut, successfully concluded his preliminary Celebration performance with a unanimous tie of the judges.
| | |
| --- | --- |
| Fans were captivated by Ritz during the week that followed, and would drop by the barn to catch a glimpse of him or try to grab on to a souvenir that bore his name. They were equally enamored with rider/trainer Sammy Day who can hold a crowd in the palm of his hand with his big smile, his friendly disposition, and his showmanship appeal. | |
To a record-breaking crowd of 30,081 people, He's Puttin' On The Ritz came into the show ring to a standing ovation and left the same way-only this time it was with the title of World Grand Champion.

He's Puttin' On The Ritz stands at Waterfall Farms in Shelbyville. Sired by Command Performance and out of a Pride's Generator mare, he offers distinctive conformation and size in addition to his coloring.
If you wish to print off this pedigree, click HERE to load a black and white copy.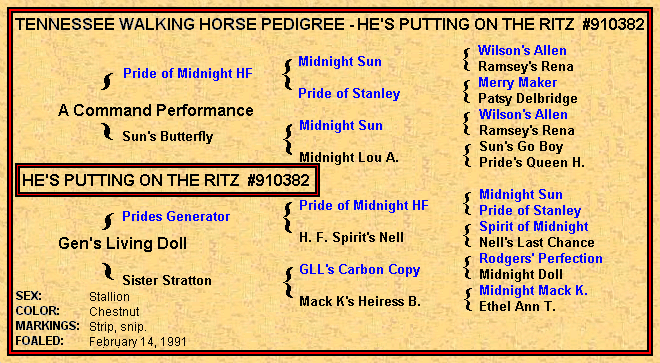 If you have a story or photos of He's Putting On The Ritz
that you would like added to this page, please forward them to Walkers West.


MAIN - EMAIL WALKERS WEST - STALLIONS - SALE HORSES - TACK - CYBER-BARN TOUR
OFFICE - COLT COLLEGE - BREEDING CONTRACT -
CLIENT COMMENTS - CONTACT
THE ANCESTOR GALLERY -
Tennessee Walking Horse National Museum - Pj Wamble Gallery
TWHBEA COLOR CODES -COLOR CHART - LEGENDS - FOUNDATION BOOK - BREED HISTORY - WORLD CHAMPIONS
GHOST HORSES
- LINKS - BANNERS - RINGS - GUEST BOOK - PHOTO ALBUM
GLOBAL TIME CLOCKS - THE LIBRARY -
PUZZLES - 2017 WALKERS WEST CALENDAR

Walkers West
3236 FM 2578
Kaufman, TX. 75142
Cell (214) 507-6032
Email: walkersw@earthlink.net


We can ship overseas.


<==

Click here for Currency Exchange Rates
COPYRIGHT NOTICE

Hosted on