HANDSHAKER'S DELIGHT and trainer Donald Paschal had a perfect Celebration record in 1972 making three appearances and winning three blues. Their first blue was at the Spring Celebration Fun Show in May and the other two blues came at the National Celebration, the second carrying with it the title of 1972 World's Grand Champion.
Our current World's Grand Champion is officially registered as HANDSHAKER DELIGHT A. with registration number 650897. He was bred by King and Newman of Henderson, Tennessee and was foaled March 9, 1965. He is by MACK K'S HANDSHAKER and out of MAY'S MAIDEN K-N by JOHNSONS JIM ALLEN.

HANDSHAKER'S DELIGHT came to the attention of owner Dr. C. L. Sexton and Donald when he was a three-year-old in training with Doug Wolaver in Cornersville, Tennessee.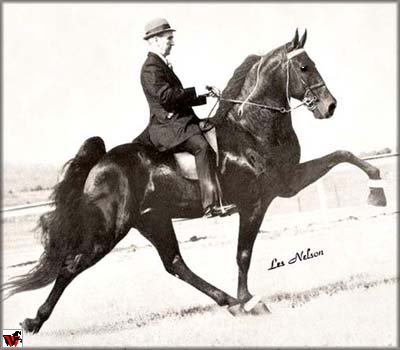 He was, purchased from Frank Parnell of Newbern, Tennessee on November 28, 1968, as a three-year-old by Dr. Sexton. The next year Donald started working and showing the horse in four-year-old competition and had a great season winning the Junior Stallion Class at the Celebration as well as the Junior World's Grand Championship.
In 1970 Donald and his horse enjoyed another good season and in their first year of open competition tied third in the World's Grand Championship.