World Grand Champion in 1975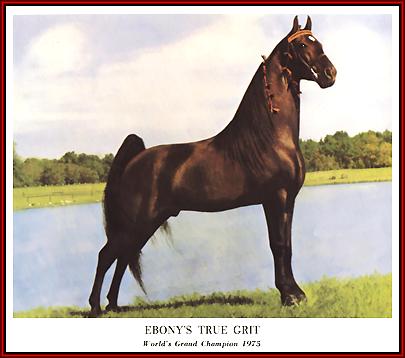 Ebony's True Grit #672546
Sired by the World Grand Champion Ebony Masterpiece and out of Midnight Irene by Midnight Sun, EBONY'S TRUE GRIT was foaled in the spring of 1967 in Westmoreland, Tennessee. The victory by TRUE GRIT at the 1975 Tennessee Walking Horse National Celebration climaxed one of the most determined efforts in history to win the ultimate, the title of Grand Champion Tennessee Walking Horse of the World.
TRUE GRIT had knocked at the door of success numerous times in the past and in 1975, the Reserve Grand Champion of 1974 lay claim to the big one. Owned by Mr. and Mrs. Monroe Plemmons and Mr. and Mrs. Roy Wilcox of Long Leaf Stables in Chatom, Alabama and Shelbyville, Tennessee, TRUE GRIT reached the top under the careful guidance of the well-known and respected father and son team, Preach and Joe Fleming.

As a young horse TRUE GRIT'S show career started, stopped and started again. Shown sparingly as a two-year-old by his breeder, Gene Davis, TRUE GRIT was then purchased by Billy Hale, Gallatin, Tennessee. In his Junior Year, Billy Hale sold the Reserve World Champion Junior Stallion of 1971 to Long Leaf Farms and his show career was continued with Bud Seaton as trainer.

EBONY'S TRUE GRIT'S 1972 show season was brief as the young bay suffered from tendonitis and was laid up for the greater part of the year. 1973 found him back on the show circuit once again, but this time under the direction of Long Leaf Farms trainers, Preach and Joe Fleming. After being campaigned for two years with Preach Fleming in the saddle and now the Reserve World Grand Champion, some changes were made in 1975. Young Joe Fleming was put aboard the beautiful deep bay stallion and together they headed for the top.
| | |
| --- | --- |
| | At their first show as a new team, TRUE GRIT tied second at Jackson, Mississippi. This, however, was the last time EBONY'S TRUE GRIT would taste defeat. Not resting on their laurels, TRUE GRIT and Joe Fleming set out to prove they were the makings of a World Champion. Together they cut a swipe of wins across the show circuit preparing for the big Saturday night in September. Their wins included the Columbia Spring Jubilee, Smyrna, The Tennessee State Horse Show and the final pre-Celebration show, Belfast, Tennessee. |
One of the most consistent horses the Walking Horse industry has ever known, the road to success for EBONY'S TRUE GRIT was a slow, well planned and sometimes heartbreaking one, however, the mighty EBONY'S TRUE GRIT, young Joe Fleming and their faithful supporting cast believed and their faith was rewarded not only in the preliminary Aged Stallion class on Wednesday night but also on that first Saturday night in September.

Shortly after winning the greatest of all crowns that a Walking Horse can obtain, it was announced that after a formal retirement in Montgomery, Alabama at the Southern Championship Show, EBONY'S TRUE GRIT would be retired to stand at stud. Now ready to embark on the most important career of all, EBONY'S TRUE GRIT was truly an asset to the breed, for few could match the stamina, power, heart and natural walking ability that had been bestowed this magnificent piece of horseflesh.
If you wish to print off this pedigree, click HERE to load a black and white copy.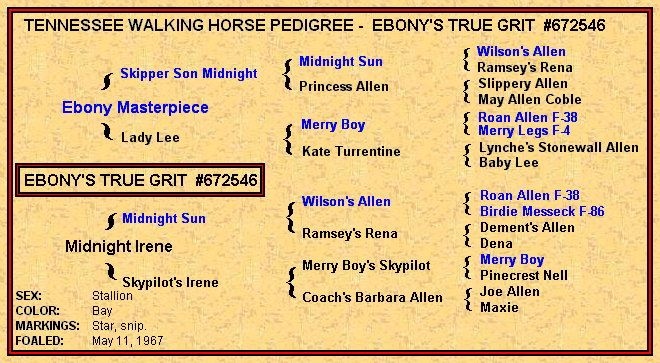 ----- Original Message -----
From: Larry Staggs
To: walkerswest@walkerswest.com
Sent: Friday, August 19, 2005 11:34 PM
Subject: I remember Grit


I grew up just up the road from where Grit was stabled. It was at Long Leaf Stables. I was 9 years old at this time. I seen a lot of prime horse flesh growing up in walking horse country. But I remember being greatly impressed by Grit. It was like being in the presence of a king. I could go see all the horses when I wanted so I got to see him often. My daddy mounted the picture of him in his tomb rock after he died. He died too young. There just weren't enough of his children put on this earth. I live in Texas now. I never realized how much I would miss getting to see good Walkers, but I do.

If you have a story or photos of Ebony's True Grit that you would like added to this page, please forward them to Walkers West.

MAIN - EMAIL WALKERS WEST - STALLIONS - SALE HORSES - TACK - CYBER-BARN TOUR
OFFICE - COLT COLLEGE - BREEDING CONTRACT -
CLIENT COMMENTS - CONTACT
THE ANCESTOR GALLERY -
Tennessee Walking Horse National Museum - Pj Wamble Gallery
TWHBEA COLOR CODES -COLOR CHART - LEGENDS - FOUNDATION BOOK - BREED HISTORY - WORLD CHAMPIONS
GHOST HORSES
- LINKS - BANNERS - RINGS - GUEST BOOK - PHOTO ALBUM
GLOBAL TIME CLOCKS - THE LIBRARY -
PUZZLES - 2017 WALKERS WEST CALENDAR

Walkers West
3236 FM 2578
Kaufman, TX. 75142
Cell (214) 507-6032
Email: walkersw@earthlink.net


We can ship overseas.


<==

Click here for Currency Exchange Rates
COPYRIGHT NOTICE

Hosted on