World Grand Champion in 2000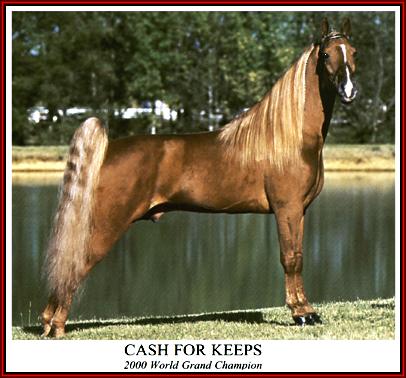 Cash For Keeps #913503
The year 2000 marked new beginnings with renovations and improvements all across the show grounds. Changes to the Celebration grounds included the addition of an elegant Celebration Plaza housing the event's new Winner's Circle. This is adjacent to a recently constructed covered practice ring that provides all-weather convenience. Also, 27 barns were replaced with state-of-the-art facilities on the grounds.

Celebration 2000 marked the third year of the award-wining S.H.O.W. campaign, which promotes Sound horses, Honest judging, Objective inspections and Winning fairly. S.H.O.W. W is the walking horse fan's assurance that the Celebration is dedicated to carrying out their duties as the industry's premier event.

Attendance and entries were at a record and near record high, respectively, at this year's show. Paid attendance was 225,540 for the 11-day event, and actual attendance totaled 152.469.

At the sane time, total entries were 4,161, more than 9 percent higher than last year.

The teams of Keeps and Gilmer has been together for three years. The Harrell Brawner family of Wynne, Ark., owns Keeps. The Brawners bought Keeps six years ago, and decided in 1997 that they would like to have him closer to home. In December of 1997, they placed Keeps in Gilmer's hands at [us stables in Eads, Tenn.

The pair made their debut in Jackson, Miss., in 1998 and won a preliminary and a championship title. They also earned stake titles at the 1998 Cotton Classic and the Spring Fun Show. They added a preliminary win at the Celebration that year and followed that with the fifth place tic in the championship.

In 1999, the wins piled up: Dixie Jubilee, Hernando Lions Charity Classic, Moore County. Southern Championship, While Oak Classic and reserve in a preliminary at the Celebration.

Keeps and Gilmer only showed twice before Celebration 2000. Winning the championship class at Lewisburg and reserve at Woodbury, primed them for the "world's greatest horse show." They took reserve in the preliminary class the first Saturday night. And on that final Saturday evening, the stallion made what both Brawner and Gilmer referred to as a near-perfect performance in the championship.

The partnership of Cash For Keeps and the Brawners began in 1994 with a phone call from Sammy Day wanting Brunner to come look at a horse that he thought Brawner would be interested in. "I knew the first lime I saw him . . . I bought hum that day," said Brawner.

Keeps and Day won in Pulaski that year In 1995 they won the four-year-old preliminary class at the Celebration. Keeps brought the louse down when he was named Four-Year-Old World Grand Champion that year.
To get to the winner's circle, Keeps and Gilmer had to lop the best names in the business. Keeps was one of five horses called to workout for the first place lie. The crowd response as the five top stallions rounded the ring was deafening. Everyone was on his or her feet shouting. Some thrive under pressure. Keeps took the crowd's roar and tinned it into fuel. "He got a little stronger each round," Gilmer said. "The strongest round he made all night was the last round. That's what you want to do."

As the spotlight scanned the line-up at the end of the class, Gilmer waited. Then came the voice of Cliff Gillespie, "entry number 1-9-5-5." But Gilmer still waited. "I thought I was dreaming," he said. I just sat there a minute to make sure 1 was awake. I had dreamed of it for so many years. When it finally happens you don't believe it's really happening."
It was on Saturday night. September 2, that a crowd of 28,691 watched Cash For Keeps and Ray Gilmer become the Tennessee Walking Horse World Grand Champions for the first Celebration of the new century.

After those wins, things slowed down for the talented Stallion, but when he and Gilmer got together, things began to pick back up. And pick up they did. After their championship ride. Gilmer said "It was just like a dream. He was so easy to ride. Everything I asked him to do, he did it, and he looked like he was having the time of his life. He was awful close to perfect."

Cash For Keeps will stand at Gilmer's new facility, Falcon Ridge Faints, just south of Jackson, Tenn.
If you wish to print off this pedigree, click HERE to load a black and white copy.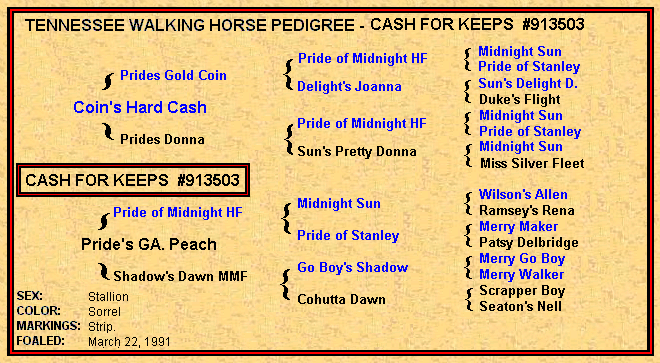 ----- Original Message -----
From: Eldridge Brawner
Sent: Tuesday, October 07, 2008 3:45 AM
Subject: Cash For Keeps
Hello,
I love your site. Spend many, many hours doing research and just reminiscing. If you have time I would appreciate it if you would update Cash For Keeps page.
My family sold Keeps to life long family friend Jennie Morrision and her family in 2004. He remains with his trainer Ray Gilmer. The attached is an article published in the Voice and I hope you can use it to update Keeps page.
Thank you so much,
Gilmer Made History On Cash For Keeps
©Voice, July 2006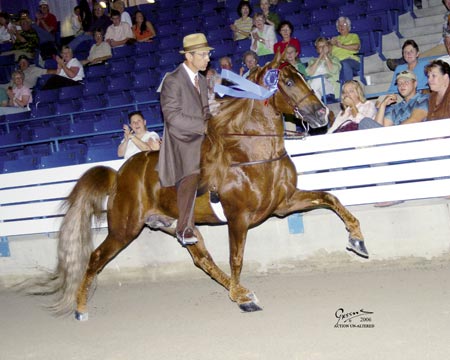 Cash For Keeps and Ray Gilmer make their victory pass
as the 2006 Fun Show Plantation Lite Shod Champions.
SHELBYVILLE, TN – Ray Gilmer made history when he won on 2000 World Grand Champion Tennessee Walking Horse Cash For Keeps in the Plantation Lite Shod division. The test run in this new division occurred at the 2006 White Oak Classic in Holly Springs, Miss. It was a success. However, it was his win in this division at the 2006 Celebration Spring Fun Show that brought his division change to national attention and rave reviews.

"We had been talking about it for years," Bart Gilmer said. "We went with the lite shod division because we wanted to make the largest transition to showcase his natural ability.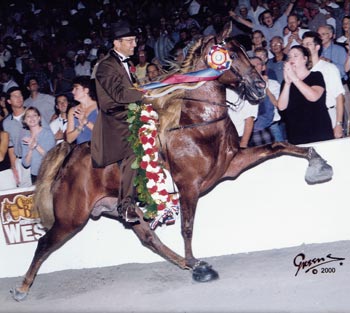 Cash For Keeps and Ray Gilmer make their victory pass
as the 2000 World Grand Champions.
"A great horse should be able to excel at any level of show ring competition," Ray Gilmer, said. "All the pads and action devices should do is enhance a horse's natural gait."

Cash For Keeps is sired by WGC Coin's Hard Cash and is out of a Pride Of Midnight/Go Boy's Shadow mare. He was bred by Bonnie Cady. He was first purchased by Ernie Berzette and Kevin McNatt in 1994. Hoil Walker bought into the partnership in 1995. Later that year, he was purchased by the partnership of Bill and Sandra Johnson and the Harrell Brawner family. With Sammy Day in the irons, Keeps won the 1995 Four-Year-old World Grand Championship. The Brawners purchased full interest in him in 1997 and decided to bring him to West Tennessee to be closer to their Arkansas home. They selelcted Ray Gilmer for his long reputation for training top horse and his personal integrity.

Ray Gilmer has had a long run of success and enjoyment with the 15-year-old copper stallion. Their resume' boasts prestigious victories from such shows as Fun Show, Dixie Jubilee, Southern Championships, and more. They won the Five and Over Stallion class at the Celebration in 1998 but all pales in comparison to their popular victory in the 2000 World Grand Championship.

In the fall of 2004, Cash For Keeps was purchased by Bill and Jeanne Morrison and put back in training with eyes on the amateur division. He was sidelined most of 2005 with an injury but is fully recovered as has been proven with his winning performances this year.

Cash For Keeps has become the poster-child for versatility and natural ability in the show Tennessee Walker. His transition from padded to lite shod is a testament that the Tennessee Walking Horse is indeed the world's greatest show and pleasure horse.

Richard Hudgins
rhudgins@twhbea.com

If you have a story or photos of Cash For Keeps
that you would like added to this page, please forward them to Walkers West.


MAIN - EMAIL WALKERS WEST - STALLIONS - SALE HORSES - TACK - CYBER-BARN TOUR
OFFICE - COLT COLLEGE - BREEDING CONTRACT -
CLIENT COMMENTS - CONTACT
THE ANCESTOR GALLERY -
Tennessee Walking Horse National Museum - Pj Wamble Gallery
TWHBEA COLOR CODES -COLOR CHART - LEGENDS - FOUNDATION BOOK - BREED HISTORY - WORLD CHAMPIONS
GHOST HORSES
- LINKS - BANNERS - RINGS - GUEST BOOK - PHOTO ALBUM
GLOBAL TIME CLOCKS - THE LIBRARY -
PUZZLES - 2017 WALKERS WEST CALENDAR

Walkers West
3236 FM 2578
Kaufman, TX. 75142
Cell (214) 507-6032
Email: walkersw@earthlink.net


We can ship overseas.


<==

Click here for Currency Exchange Rates
COPYRIGHT NOTICE

Hosted on