Isabelle with Postmark Delight, showing their blue ribbon after winning
the English Three-gait Class at the European championships at Alpenrod in 2005
(judged by Nicole Carswell)
DESCRIPTION
PEDIGREE
EXTENDED PEDIGREE
SHOW RECORDS
PROGENY
BREEDING CONTRACT
DESCRIPTION
POSTMARK DELIGHT is an incredibly beautiful, wonderfully gaited, 28 year old, black Tennessee Walking Horse. He measures 1,58 cm at the withers (15 hands, 2 inches). A direct son of D.Lights Mtn. Black Boy, Postmark Delight is one of the last living grandsons of Sun's Delight D. and offers a rare chance to breed to the precious bloodlines of Midnight Sun, Pride of Panola and Wilson's Allen. Foaled 04/08/1984. Take the opportunity to add his bloodlines to your herd while this stallion is available! Located in Belgium.
Standing out among his many championships and high ranking places at competitions in the U.S., was the 1990 Celebration Model Plantation Stallion World Championship. Even now, at 28 years old, his conformation, including his finely chiselled head and ears, is a pleasure to behold. He also won the 2005 Alpenrod European Champion - English Three-gait Class.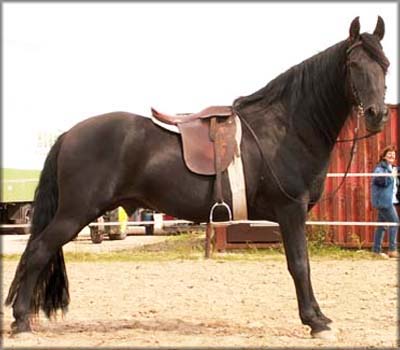 Photos courtesy of

Lode Greven

and Hypofocus Photography
It was the official European Championship, held under TWHBEA approved rules and judged by Nicole Carswell, where Postmark Delight participated. The place was Alpenrod, in the central region (Hessen) of the Federal Republic of Germany. Here it was Veni, vidi, vici for him, like Julius Caesar said when conquering Europe: I came, saw and was victorious.
| | |
| --- | --- |
| | Postmark was by far the oldest participant of the competition and he won the "royal class", that is the English Three-Gait Class. He was ridden well by Isabelle Huenaerts from Belgium and she stated that the horse was obviously responding to the surroundings, doing what he was taught to do so long ago, showing off before the crowd, with a tremendous running walk. When he was executing his slow and collected canter, Isabelle said she got goose-flesh from excitement, he did so well! Altogether remarkable is that Postmark Delight went through his paces unshod, proving the complete naturalness of his gaits. |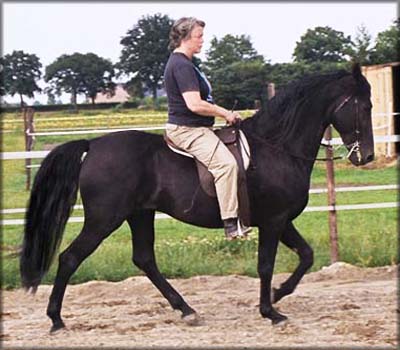 Stud fee/Decktaxe: €1000 Euros LFG
For more information, Contact:
Maryan Zyderveld
Horst, Limburg, Netherlands

PH. - 0031-646732533 (Maryan)
- 0031-646732532 (Henk)

PEDIGREE
Click HERE for an illustrated, 14 generation pedigree analysis.
Postmark Delight delivers a gene pool consisting of:
nearly 30% Midnight Sun;
nearly 30% Roan Allen F-38;
nearly 30% Wilson's Allen;
37.5% Blairs Allen; and
nearly 14% Hunter's Allen F-10.
Photos of the horses named in blue on the pedigree can be found in the Ancestor Gallery.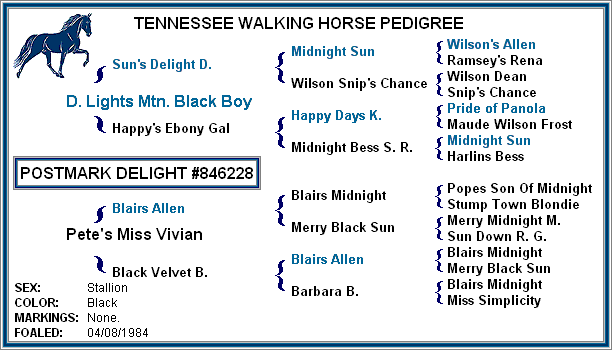 Show Records
iPEDs Show Records
11/17/11

Horse No 846228 POSTMARK DELIGHT

08/26/93
55TH ANNUAL T.W.H. NATIONAL CELEBRATION - SHELBYVILLE, TN
MODEL STALLION & GELDINGS AT HALTER
26
5
ANDERSON, KATHY
Progeny
iPeds Production
11/17/11

Horse No: 846228 POSTMARK DELIGHT

870795
HUNTER'S WILLIAMS
G
N
N
6/11/1987
725464
MISSY PRISSY
880218
POSTMARKS MR. DELIGHT
S
N
N
3/03/1988
773211
SUPER'S MAY LADY
880500
RAYS CARBON DELIGHT
M
Y
N
4/21/1988
756284
DOC'S PRESCRIPTION
880504
APRIL'S CEFLA DELIGHT
M
N
N
4/04/1988
806664
APRIL MTN.'S LADY
881077
TOP HAND'S DELIGHT
S
N
N
6/06/1988
846455
TOP HAND'S JEAN
882470
SMOKY MOUNTAIN MAMA
M
N
N
9/19/1988
754223
MOUNTAIN BOY'S STAR
883980
MISTY SUE'S DELIGHT
M
N
N
10/17/1988
773109
DELIGHT'S MISTY SUE
890040
DELIGHT'S DIXIE LEE
M
Y
N
3/05/1989
796654
DELIGHT'S LULU GIRL
891071
MIDNIGHT VELVIT SUN
M
Y
N
5/07/1989
756284
DOC'S PRESCRIPTION
891470
DELIGHT'S MAJESTIC LADY
M
Y
N
5/16/1989
846455
TOP HAND'S JEAN
POSTMARKS JULIE
M
Y
N
7/13/1989
846456
TOP HANDS NANCY
891711
MIDNIGHT POSTMARK
G
Y
N
5/07/1989
835306
TORNADOS RAVEN B
893914
POSTMARKS SHADY LADY
M
Y
N
8/27/1989
754223
MOUNTAIN BOY'S STAR
895520
ANGELS POSTMARK
M
Y
N
3/03/1989
773211
SUPER'S MAY LADY
896424
POSTMARKS HIGHLIGHT
G
N
N
10/18/1989
733270
EBONY'S WONDER GIRL W.
896948
EASTER LILY DELIGHT
M
N
N
3/26/1989
794113
MERRY'S SUN'S EASTER
900188
BLACK JACK'S MAJOR
S
N
N
4/22/1990
856497
THREAT'S BLACK QUEEN
900758
MICHAEL'S MIDNIGHT LADY
M
Y
N
3/27/1990
841263
THE CHAMPAGNE LADY
901430
SPICER'S DELIGHT
S
Y
N
5/24/1990
765598
MANILA JO JO
905829
DELIGHT'S SOUTHERN BELLE
M
Y
N
4/06/1990
796778
KARI'S MIDNIGHT STAR
907129
POSTMARK'S KAT
S
N
N
4/30/1990
854872
COPY'S LADY ANNE
907130
POSTMARK'S MISSY
M
N
N
5/12/1990
803706
AMY JO
907131
POSTMARKS SATIN LADY
M
Y
N
12/11/1990
861289
MITZYS SURPRISE
907132
POSTMARK'S BLACK LADY
M
Y
N
5/01/1990
725348
STACY'S BLACK LADY
907133
POSTMARKS ONE AND ONLY
S
N
N
11/02/1990
755801
LISA SOCIETY
907378
MAY DAYS POSTMARK
M
Y
Y
4/21/1990
754405
MAY DAY'S RINGMASTER

914368
POSTMARK DARK SHADOW
S
Y
Y
5/01/1991
736317
ROSE'S DARK LADY
916744
POSTMARK'S TOUCH OF CLASS
G
N
N
5/15/1991
830976
SON'S CLASSY LADY
916745
POSTMARKS PERFECTION
M
Y
N
5/24/1991
774848
PERFECTION FLASHY G.
916966
POSTMARKS MORNING LADY
M
Y
Y
4/18/1991
781258
MORNING EXCELLENCE
916967
SYMBOL OF POSTMARK
S
N
N
1/01/1991
872284
SYMBOL'S SHOWBIZ
916968
POSTMARK'S SPIRIT
S
N
N
10/10/1991
851210
SANDY OF SPIRIT
922732
POSTMARK HIGHLIGHT STAR
M
Y
N
3/22/1992
796778
KARI'S MIDNIGHT STAR
922733
POSTMARK OF CLASS
M
Y
N
3/28/1992
830976
SON'S CLASSY LADY
922830
POSTMARK'S MY PAPA
S
Y
N
3/23/1992
800334
WINSTON SECRET ANGEL
926294
EXCELLENCE POSTMARK
M
Y
Y
4/17/1992
781258
MORNING EXCELLENCE
926543
POSTMARKS SPOTTED SHAKER
M
N
N
4/11/1992
884310
EBONY'S SHAKER PLUS
930005
POSTMARK SPECIAL DELIVERY
M
Y
N
1/30/1993
834959
THREAT'S STORM CLOUD
930684
POSTMARK'S SIGNATURE
S
Y
N
5/20/1993
866210
ANOTHER SONNEY LADY

20607958
PD'S WINGED BLACK MAGGY
M
Y
Y
4/27/2006
20008852

A NEW GOLDEN TIME

20703191
ALENS MUSTANG SALINA
M
N
Y
6/05/2007
9610037

ALEN'S MUSTANG SALLYE

20703864
THE DOUBLE DUTCH DELIGHT
M
N
Y
5/07/2007
20302773

PRIDES DUTCH TREAT

20704740
POSTMARK'S BAY BUSSARETTE
M
N
Y
5/15/2007
920259

MIDNIGHT LUNAR

20705354
POSTMARK'S MORGAN
S
N
Y
6/25/2007
898350

SWAMPMAN'S FIREFLY

20805299
POSTMARK'S JOY & DELIGHT
M
N
Y
7/18/2008
893141

JOYS LITTLE LADY

20805300
DUTCH RISING SUN
M
N
Y
7/29/2008
961311


BUSTER'S DUTCH DARLING

20806162
MABLES' LITTLE LIAM
G
N
Y
5/22/2008
841414

MARBLED MABLE

20901729
DKF'S POISON KISS
M
N
Y
5/03/2009
20306587

CASH'S POISON

20901730
DKF'S MARK MY WAY
S
N
Y
5/24/2009
20112249

SHE'S BITTER SWEET

20904101
PD'S WINGED BLACK VELVET
M
N
Y
6/07/2009
20008852

A NEW GOLDEN TIME

21000642
HEAVENS GAITS FIREFLY
M
N
Y
5/29/2010
20502779

HEAVENS GAITS JAZZIE
21000653
MASTER MARCO
S
N
Y
4/21/2010
885160

F88'S RAMBLING ROSE


21000654
PD'S WINGED BLACK PEARL
M
N
Y
5/05/2010
20008852

A NEW GOLDEN TIME
21001837
POSTMARK B.S. ALLENDORF
M
N
Y
8/13/2010
955558

SHE'S A PLEASER
21102057
STREERHOEVES AARON
S
N
N
5/02/2011
950008
LADY ANN'S GRISETTE