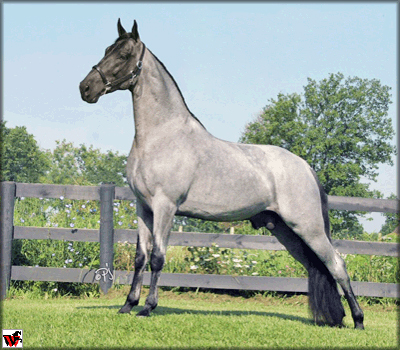 Photo by PJ Wamble
DESCRIPTION
PEDIGREE
EXTENDED PEDIGREE
PROGENY
BREEDING CONTRACT
DESCRIPTION
Fabulous, 16.1 hand, homozygous blue roan Tennessee Walking Horse stallion by Generator's Pushin' Blue, out of Walk On Water. Sire of 48 registered foals to date, all of which are roan. Foaled 03/31/03.
Generator's DR Blue is a personality and very clever. When he was started under saddle, Jose trained him to step on his cigarettes when he wanted them put out. Blue can entertain me with tricks and motivate me to pick grass when he is in his stud corral. If I am late to feed he lets me know with his 'this-is-important' whinny that would wake the dead.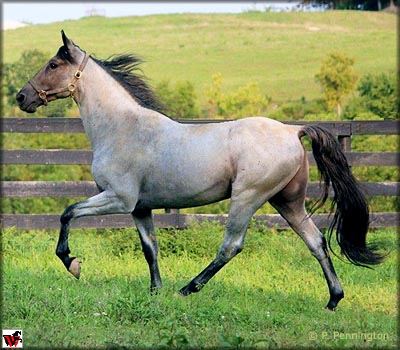 He was used as a trail horse, and I love his gait, both slow and fast. The glide of his walk and the effortless way he climbs hills makes me feel like an athlete, knowing I would be unable to scale those spots on foot. I love his bravery; when faced with a turkey or deer, he looks at them without fear. I love his playfulness on the trail. When he was parked on rest breaks, he would start to ease over to greet a pretty mare.
Generator's DR Blue is the first Tennessee walking horse to be certified by UC Davis as homozygous for the classic roan gene. When we got him, I was told by several experts that it was not possible to have a homozygous roan. I contacted Samantha Brooks, who was then at UK and shared links to the Quarterhorses that were 100% roan producers. She began the studies and requested DNA to document the homozygous roan gene in Blue. We are proud of being involved with the genetic test that is now a short cut for other breeders.
Video of 4 of DR Blue's colts moving, all are 1 week or younger, just learning to use legs. TN walkers naturally moving.
Generator's DR Blue's colts are also very clever. He brings forth many nice colts that delight their owners. He should be shared with those who want a special horse. More than a color horse, or a smooth-gaited horse, Generator's DR Blue has produced many in-your-pocket horses that want to be family members.
Stud Fee: $1000 US Funds
Live Foal Guarantee.
Live Cover Only.
To Book Breedings, contact:
Jamie Noe Stables
Fairview TN
Email Jamie Noe
Ph. 615-828-8787
www.mywalkinghorse.com

PEDIGREE
Photos of the horses named in blue on the pedigree can be found in the Ancestor Gallery.
Progeny
iPeds Production
04/08/13

Horse No: 20301092 GENERATOR'S DR BLUE

Horse No.
Name
Color
Sx
Bl
DN
Foaled
Mare No.
Name
Color

20608075
GEN'S BLUE ROMEO
BL-RN
G
Y
Y
10/05/2006
20103416
THREAT'S ROCKET LADY
BL

20608077
DR. SHADOW'S WIND WALKER
BL-RN
S
Y
Y
10/07/2006
20103417

TRAMP'S SHADOW OF PRIDE
BL

20702546
ECHO OF BLUE
BL-RN
M
N
Y
5/01/2007
20003149
EB'S MIDNIGHT PRINCESS
BL
20706147
GYPSY BLUE DR
BL-RN
M
N
Y
6/02/2007
20112399
GREY CLOUDS RISING
GR

20800500
DR.'S BLUEGRASS BANJO
BL-RN
S
N
Y
4/01/2008
20103417

TRAMP'S SHADOW OF PRIDE
BL

20801410
JOSE'S DR. PINKY
CH-RN
M
N
Y
6/05/2008
20507101

JOSE'S BAY LADY
BA

20801411
DR.'S BLUE ANGEL
BL-RN
M
N
Y
5/12/2008
20103416
THREAT'S ROCKET LADY
BL
20804669
GENERATORS SAPPHIRE D.R.
BL-RN
M
N
Y
6/27/2008
940111
REDS WALKIN AFTER MIDNITE
BL

20900256
DR'S HIGH STEPPER
BL-RN
S
N
Y
3/26/2009
20103417

TRAMP'S SHADOW OF PRIDE
BL

20900257
DR. JOSE'S AMIGO
BL-RN
S
N
Y
5/16/2009
20106232
JOSE'S SWEET P.
BL

20902250
DR'S CAPTAIN SUNDAY
SO-RN
G
N
Y
5/20/2009
958565
SHE'S TURBO POWERED
BL
20903057
DR. BLUE'S MAGIC
BL-RN
M
N
Y
8/16/2009
20103416
THREAT'S ROCKET LADY
BL
21000243
DR'S BLUE MOON OF KY
BL-RN
S
N
Y
3/31/2010
20507101

JOSE'S BAY LADY
BA
21001757
NIGHT STAR MR. BLUE J.A.
BL-RN
S
N
Y
4/20/2010
948262
PUSHER'S LIGHTFOOT COPY
BL
21001758
TRACI'S LACED IN BLUE J.A
BL-RN
M
N
Y
4/19/2010
882907
TRACI'S SUGAR FOOT
BL

21003090
GENERATOR'S DR COBALT
BL-RN
M
N
Y
9/06/2010
20103417

TRAMP'S SHADOW OF PRIDE
BL

21100073
DR. BLUE'S PERFECTION
BL-RN
S
N
Y
4/18/2011
20103416
THREAT'S ROCKET LADY
BL
21100225
DOC'S HARRY POTTER
BL-RN
S
N
Y
5/04/2011
979001
SHE'S A DANGEROUS GENIE
CH

21100226
GEN'S DESIGNER BLUE JEANS
BL-RN
M
N
Y
5/09/2011
20001637
PRICELESS COVER GIRL
RR

21100248
MISS ELEANOR ROOSEVELT DR
CH-RN
M
N
Y
3/16/2011
20600284
MISS OLE MISS
SO

21100249
HE'S PRINCE CHARMING DR
BL-RN
S
N
Y
4/24/2011
20106232
JOSE'S SWEET P.
BL

21100262
DR'S MAJESTY KING GEORGE
BL-RN
S
N
Y
3/27/2011
20513635
MIDNITE ON BROADWAY
BL-TO

21100411
BLUE'S KENTUCKY MOONSHINE
BL-RN
S
N
Y
5/19/2011
20608121
TAKIN' BROADWAY BY STORM
BL
21100670
BALLAD OF LIBERTY VALANCE
CH-RN
M
N
Y
4/09/2011
20213931
FLASH'S MEMPHIS BELLE
CH
21101388
GENERATOR'S BLUE FLAME
BL-RN
S
N
Y
4/01/2011
20308393
NEVADA'S PUSHY ROSE
SO
21101897
DR. INDY'S BLUE BELLE
BL-SIL-RN
M
N
Y
5/12/2011
20608360
CASH'S INDEPENDENT PRIDE
BL
21102033
GEN'S JUDGE ADVOCATE DR
SO-RN
S
N
Y
5/06/2011
20008473
LIBERTY & JUSTICE FOR ALL
BL
21102281
RIVERBEND'S BLUE BOY
BL-RN
S
N
Y
6/02/2011
977803
GEN'S LADY FABLE
BL
21102542
COPY'S PUSHIN THE BLUE JA
BL-RN
G
N
Y
5/07/2011
948262
PUSHER'S LIGHTFOOT COPY
BL
21102933
SHADOW'S FOXY PRINCESS DR
CH-RN
M
N
Y
9/15/2011
20103417

TRAMP'S SHADOW OF PRIDE
BL
21103391
POSSUM'S RED WARRIOR
SO-RN
S
N
Y
6/03/2011
19914046
SHE'S A MAJOR ACT
SO

21200080
BLUE'S KEEP THE FAITH
BL-RN
M
N
Y
4/20/2012
20704933

FAITH N GLORY
BL

21200090
MEMORY'S SUNKYSD KEEPSAKE
CH-RN
M
N
Y
4/12/2012
20801471
SHE'S A MEMORY MAKER
BL

21200091
SAPHYRE'S MISTY RAIN SONG
BL-RN
M
N
Y
4/07/2012
20507628

COPIED IN THE RAIN
BL
21103476
I'M A RAMBLIN MAN 2011
CH-RN
G
N
Y
5/26/2011
955764
JAKE'S LADY'S DELTA DAWN
CH

21200138
ROCKETS BLUE SAPPHIRE
BL-RN
M
N
Y
4/19/2012
20103416
THREAT'S ROCKET LADY
BL
21200139
DR'S BONNIE BLUE ILLUSION
BL-RN
M
N
Y
4/13/2012
20108488
LADY TROUBLE
CH

21200786
SKYE'S SAPHYRE STARLYTE
BL-RN
S
N
Y
5/04/2012
20507101

JOSE'S BAY LADY
BA
21200870
DR BLUE JABBAWALKIE
BL-RN
S
N
Y
5/28/2012
956817
THE COIN'S EBONY LADY
BL
21200883
PUSHIN TURBO BLUE
BL-RN
M
N
Y
6/15/2012
934747
THE TURBO CHARGED PUSHER
BL
21200935
GEN'S HEART OF BLUE
BL-RN
S
N
Y
4/22/2012
982637
HEART ATTACKS NIGHTWIND
BL

21200961
GENEROSO DEL CORTIJO
BL-RN
S
N
Y
5/12/2012
20106232
JOSE'S SWEET P.
BL

21201294
WALKING WITH THE BLUES
BL-RN
S
N
P
10/01/2012
20513635
MIDNITE ON BROADWAY
BL-TO
21201468
DR. BLUE
BL-RN
S
N
Y
5/25/2012
20709615
SHE'S BLUE RAY
BL-RN
21201469
BLUE PAPA
BL-RN
S
N
Y
4/25/2012
20203345
DUMAS IS MY PAPA
BL
21201918
SEVE'S LADY IN BLUE J.A.
BL-RN
M
N
Y
5/18/2012
20609982
SEVE'S LADY IN BLACK J.A.
BL
21202008
BLUE MAGGIE MAE
BL-GR-TO
M
N
Y
5/29/2012
20002150
QUALLS EVIL'S LIMELIGHT
BL-TO
21202301
PUSHER'S SWEET MAGIC
CH-RN
M
N
Y
6/29/2012
936747
PUSHER'S MISS PRISS
BL