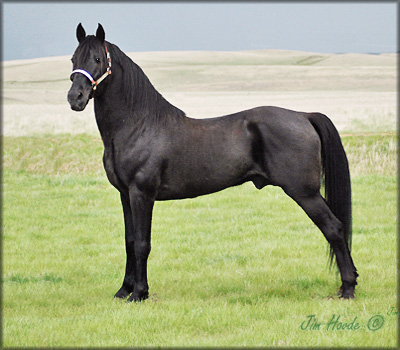 DESCRIPTION
PEDIGREE
EXTENDED PEDIGREE
SHOW RECORDS
PROGENY
DESCRIPTION
This awesome black, 15 hand Tennessee Walking Horse stallion, by Delight's Shadow Man x Sun's Glory Lady is a grand-son of both Midnight Sun and Sun's Delight D. His pedigree also contains the blue blood of WGCh Go Boy's Shadow, WGCh Merry Go Boy, Black Dust M.R., Merry Boy, Merry Walker, Wilson's Allen, Dement's Allen and Roan Allen F-38. Impressive stuff! He is certified by the Tennessee Walking Horse Heritage Society.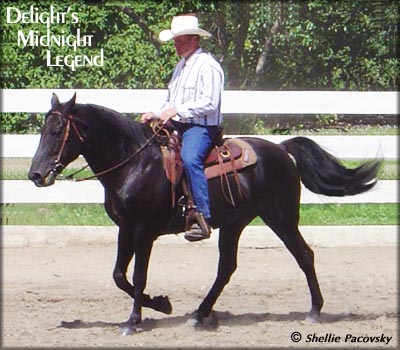 Delight's Midnight Legend was bred, born and raised by Kathy Stumph of Amazing Grace Tennessee Walkers. Kathy says "I knew when I bred Glory (Sun's Lady Glory) to Shad (Delight's Shadow Man) I was going to get something special and Gabriel is definitely special!"
Gabriel or Gabe as he is affectionately called is a grand-son of both Midnight Sun and Sun's Delight D. He shares a sire with Tsuniah Sunday, the WGC lite-shod gelding and ambassador of the TWH breed to Germany. Kathy owned him until he was 18 years old and she retired from breeding. She was very particular about who and where he was going to go. He arrived at Slush Creek Walkers on 11-7-08.
Photos by Shellie Pacovsky
Delight's Midnight Legend has an abundance of natural gaiting ability. Gabe loves people and attention. He especially loves to share dill pickle sunflower seeds with Mark. Anyone can ride him and he is easy to handle when breeding. In spring of 2010 we had our first foals by Gabe and we are very pleased. The foals are very walky and so easy to train!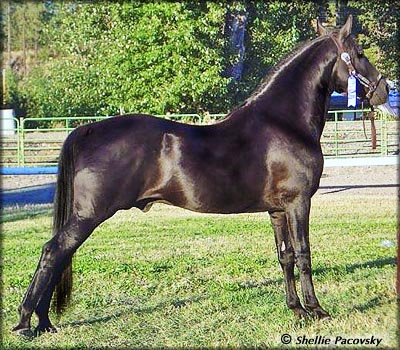 All initially certified Heritage Horses required a minimum of 5 stallions or mares with registration numbers from the 1930s and 1940s still showing on their pedigrees. Delight's Midnight Legend has 22 such horses still on his pedigree. Alone, by himself, Delight's Midnight Legend will still put 6 of these stallions and mares from the
'30s and '40s on his foals pedigree. What this means is that even if your mare has no registration numbers from that period to contribute her foal would still be eligible for certification with the Heritage Society, providing it meets all of the other criteria. There are only a very few stallions that can provide this but Delight's Midnight Legend is one of them!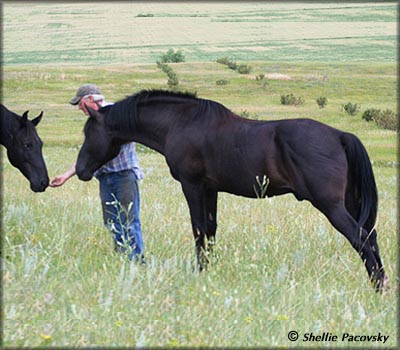 STUD FEE: Closed Book
We no longer breed outside mares to our herd sires,
but we have a new crop of foals for sale by them, every spring.
For more information, Contact:

PEDIGREE
An examination of Delight's Midnight Legend's Extended Pedigree reveals that the amount of genetic input from Midnight Sun is greater than that of a grandsire; the percentage of both Sun's Delight D., and Wilson's Allen genes is equivalent to that of a grandsire; that the degree of Roan Allen F-38 blood is nearly equivalent to that of a grandsire; and the percentage of Merry Boy blood is greater than that of a great-grandsire. The percentages of old walking bloodlines are as follows:
Click HERE for a 14 generation extended pedigree analysis.
Photos of the horses named in blue on the pedigree can be found in the Ancestor Gallery.
DELIGHT'S SHADOW MAN
SUN'S DELIGHT D.
MIDNIGHT SUN
WILSON'S ALLEN
RAMSEY'S RENA
WILSON SNIP'S CHANCE
WILSON DEAN
SNIP'S CHANCE
SHADOW'S EASTER GIRL
GO BOY'S SHADOW
MERRY GO BOY
MERRY WALKER
DASEY MAI A.
MERRY BOY'S HEIR
TRAVELING LADY STAR
DELIGHT'S MIDNIGHT LEGEND #900539
SEX: Stallion COLOR: Black MARKINGS: None FOALED: 05/04/1990
SUN'S LADY GLORY
MIDNIGHT SUN
WILSON'S ALLEN
ROAN ALLEN F-38
BIRDIE MESSICK F-86
RAMSEY'S RENA
DEMENT'S ALLEN
DENA
REBEL'S GLORY
BLACK DUST M. R.
MERRY BOY
MARY HENDERSON
MAID O' GLORY

WILSON ALLEN'S BOSS MAN

GEORGIA
Show Records
iPEDs Show Records
11/13/11
Horse No 900539 DELIGHT'S MIDNIGHT LEGEND

08/09/97
INLAND EMPIRE GRAND CELEBRATION - SPOKANE,WA
LITE-SHOD AMATEUR OWNED & TRAINED, SPECIALTY
9
99
DAN & KATHY STUMPH
Progeny
iPeds Production
01/06/11

Horse No: 900539 DELIGHT'S MIDNIGHT LEGEND

Horse #
Name
Sx
Bl
DN
Foal
Horse #
Name
932033
MURIEL'S BLUE MOON
S
N
N
8/28/1993
842044
SUNS LYRICAL IMPRINT
933168
MAJORETTE'S MIDNIGHT STAR
M
Y
N
5/23/1993
814761
ANOTHER MAJORETTE
943011
DELIGHTS MIDNIGHT JUBILEE
S
Y
N
4/20/1994
865394
TOBE'S AMBROSIA
947363
GABRIEL'S MISS TIFFANY
M
Y
N
5/15/1994
870359
MAKE MINE CHAMPAGNE
947794
SHADOWOOD'S COCO DELIGHT
S
Y
N
5/13/1994
801464
SHADOW'S MS. SPOKANE
948446
SMOKIN BLUE MERCEDES
M
Y
N
6/03/1994
900967
TOBE'S SILVER LACE
954076
LET IT RAIN CHAMPAGNE
M
Y
N
5/13/1995
870359
MAKE MINE CHAMPAGNE
954668
LEGENDS MIRACLE
M
Y
N
5/20/1995
867266
CHAPIE'S MELODY
955851
SWEET SAVANNAH DELIGHT
M
Y
N
6/13/1995
796930
OCTOBER PUMPKIN PIE
958172
GABRIEL'S DESTINY
M
Y
N
4/05/1995
917852
KELSEY'S MIDNIGHT BEAUTY
966011
GABRIEL'S NIGHTENGALE
M
Y
N
4/20/1996
865394
TOBE'S AMBROSIA
966301
MISTER COOLIO
S
Y
N
4/20/1996
881958
MISS STYX
966326
GABRIEL'S PERFECT ANGEL
M
Y
N
4/16/1996
850128
EB'S BRIGHT JEWEL RT
9710942
RENEGADE MAN
G
Y
N
4/21/1997
867266
CHAPIE'S MELODY

9812616

GABRIEL'S MORNING STAR

M
Y
N
11/20/1998
870359

MAKE MINE CHAMPAGNE
9813677
MR. STYX
S
Y
N
6/12/1998
881958
MISS STYX
9813678
DELIGHT'S VELVET BEAUTY
M
Y
N
4/25/1998
917852
KELSEY'S MIDNIGHT BEAUTY
9813679
DELIGHT'S MIDNIGHT PRINCE
S
Y
N
7/05/1998
846607
CHAPIE'S SASSY LASSY
9813880
DELIGHT'S CALYPSO
G
Y
N
4/08/1998
947516
DUSTY'S CREAM
20007698
MAKIN' MAJEC
S
Y
N
6/15/2000
870359
MAKE MINE CHAMPAGNE
20007701
MILLENNIUM TOAST
S
Y
N
4/30/2000
960454
CHAMPAGNE DIANE
20115388
ALMOND ROCA AT MIDNIGHT
M
Y
N
6/18/2001
892542
RAMBLER'S MORAIAH
20304818
GYPSY'S MIDNIGHT GIGOLO
G
Y
N
6/06/2003
801833
GYPSY'S FANCY LADY
20805517
DELIGHT'S TAYLOR MAID
M
N
Y
4/02/2008
914206
TOBE'S RYTHUM N RYME
20709643
CHANTILLY'S MIDNIGHT SUN
G
N
Y
11/28/2007
814229
SUN'S CHANTILLY LACE

21000603

SCW HES A MIDNIGHT LEGEND

S
N
Y
5/04/2010
20301768



SC SHE'S SIMPLY STUNNING


21000604

SCW A MIDNIGHT SUCKER

M
N
Y
5/08/2010
20312434



SLUSH CREEKS LOLLIPOP


21000606

SCW A MIDNIGHT KISS

M
N
Y
5/21/2010
20101317

SLUSH CREEKS
KISS THIS

21000607

SCW READY FOR MIDNIGHT

M
N
Y
4/23/2010
947598

ZEPHYR
GOOD AND READY

21000608

SCW DELIGHT'S ZEPHYR

M
N
Y
4/17/2010
935907

ZEPHYR
DAKOTA BREEZE

21002053

SLUSH CREEKS HERCULES

G
N
Y
6/27/2010
982529

SLUSH CREEKS
MISS BLISS

21100203

SCW SIMPLY GLORY BOUND

M
N
Y
4/15/2011
20301768



SC SHE'S SIMPLY STUNNING


21100204

SCW DELIGHTFUL PERFECTION

M
N
Y
4/16/2011
20003430



SC EBONY SILK PERFECTION


21100209

SCW CON VALLIAN

S
N
P
6/08/2011
885510

LEHMAN'S
BLACK DIXIE

21101805

SCW THE PRINCESS STRIDE

M
N
P
8/09/2011
877550



MILLER'S PRINCESS